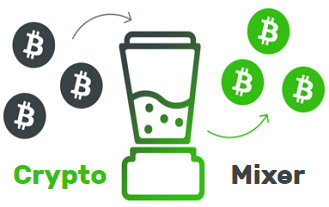 Many people still believe that Bitcoin offers an anonymous payment or money transfer service, but this is largely a misconception. The truth is that the Bitcoin network is pseudonymous only. Bitcoin transactions can be traced back to public addresses, which are the user's pseudonym on the network. This means that to have coins that will be difficult to trace back to a given user, these must be safely exchanged for someone else's. That is the service that CryptoMixer.io provides to its customers.
How Does CryptoMixer Work?
Given that most bitcoin users go through exchange services as a gateway to the Bitcoin network, and these financial institutions have to comply with local laws, any given user's coins may compromise more than just their addresses. With a little effort, governments will be able to trace the identities of the people involved in a transaction as well. CryptoMixer.io will mix the coins of any given user, by taking them in and exchanging them for coins that cannot be associated with that user. In order to do this, the user must be able to trust the mixing service.
Security Minded Bitcoin Users Require Reliability
It is hard to find a trustworthy bitcoin mixing service, given the nature of the Bitcoin network – once a transaction is made it cannot be reversed. This means that users must be able to rely on the mixing service to send them different coins back once they receive the payment. In this regard, CryptoMixer.io guarantees its reliability.
This mixing service understands that the only way to succeed in their line of business, is by making sure that users can trust them. Therefore they always issue a letter of guarantee as a proof of their obligations. Users must keep a record of this letter of guarantee, since they will erase every piece of data that can be deleted about the transaction, within 24 hours. This letter of guarantee is the only provable proof of CryptoMixer's obligations.
CryptoMixer.io has many other provisions in place to guarantee the safety of its customers. However, given the nature of the Bitcoin network, its staff also understands that users might still be reluctant to trust their service. That is why on its website, CryptoMixer.io itself suggests that if a given user does not trust the service, they can try it out, mixing smaller amounts each time.
Anonymity Guaranteed
CryptoMixer also guarantees the anonymity that its service bestows upon the user. It does this by making sure that users do not get any coins related to them in any way possible. The mixing service can guarantee this, because it holds a sizable bitcoin reserve of 2000 coins. Apart from that this mixer has other safeguards that will make its users' anonymity stronger.
CryptoMixer.io suggests using a variable service fee on the mixing transactions, as well as multiple forward addresses. This will make it more difficult for analysts looking for patterns on blockchain to identify that a certain amount of coins was indeed mixed. Apart from fixed fees, if there are any other patterns like too few forwarding addresses, similar transaction amounts, and the time period of the coin-forwarding is also the same most of the time, experts will be able to work their way back through blockchain.
A Great Bitcoin Mixing Service
Since CryptoMixer.io understands all these factors well, users should follow its recommendations. Ultimately, the strength of anonymity depends on the quality of the mixing service, and CryptoMixer.io is certainly at the top of the game in that category. As far as reliability and trustworthiness go, CryptoMixer.io has a well established reputation in the Bitcoin community; it understands the value of trustworthiness just as the post on BitcoinTalk indicates.
However, users are still entitled to their suspicions. The more suspicious users out there are welcome to try its service by mixing smaller amounts. But regardless of whether you are more or less suspicious about its services, if you are looking to mix your coins, CryptoMixer.io is certainly one of the strongest options out there.
Click here to try CryptoMixer.io.