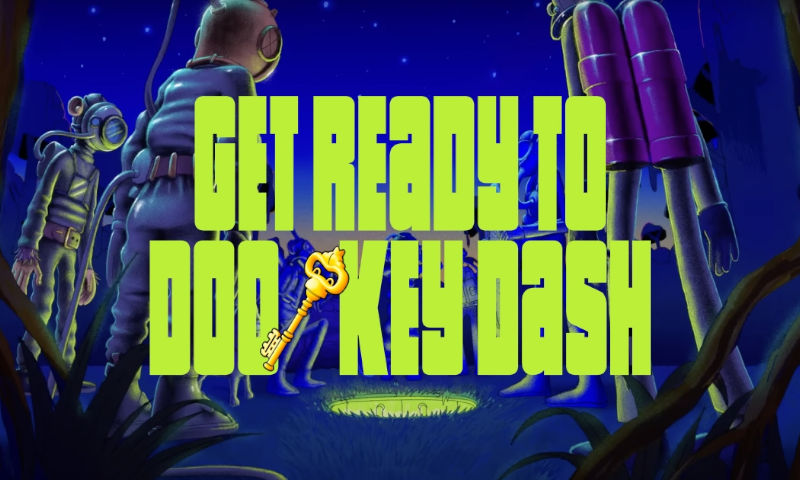 Yuga Labs have announced the release of a limited-time game, Dookey Dash, exclusively available to Bored Ape Yacht Club (BAYC) and Mutant Ape Yacht Club (MAYC) holders. Although originally planned for launch on January 17, it was pushed off to January 18, and then finally went live on January 19. It is set to remain playable until February 8.
What is Dookey Dash
Unfortunately, the game lives up to its name and entails sending your Ape Avatar, based on your BAYC or MAYC non-fungible token (NFT), sewer diving to find a key that one of the apes accidentally ate and then later expelled. Fortunately, although that is the goal of the game, it is not the only aspect.
Most of the gameplay entails dodging obstacles and collecting various 'fragments from another universe.' The more you gather, the more points you earn. Some fragments are also worth more than others. The goal of Dookey Dash is to achieve the highest score of all other players during the three-week period that the game is running.
How scoring works
Whenever you play, any new high score for a single run will automatically replace your previous high score that is stored in your crypto wallet. This high score will not transfer to a new wallet should you sell your Sewer Pass to someone else or if you transfer it to another one of your wallets. The player who acquires the most points by the end of the period will win the key to open the box from another dimension. But they will not be the only prize winners. The highest-ranking pass holders will also be able to redeem their passes for another.
Additionally, points are only recognized for the current holder of the Sewer Pass. So, if you had one of the highest scores in the game, but no longer hold the Sewer Pass with which you acquired that high score, it will not be registered as an entry, and you will not win anything at the time of the skill-based prize mint. The prizes have not yet been revealed.
How to gain access
To gain access to the game, you will need either a BAYC or MAYC NFT. You can then claim a Sewer Pass for each BAYC and MAYC NFT. There are also different Sewer Pass tiers based on the type of NFT you own, and whether you have a doggo NFT to match with your ape NFT.
The tiers are as follows:
Tier 1 – MAYC
Tier 2 – MAYC + Doggo
Tier 3 – BAYC
Tier 4 – BAYC + Doggo
The higher your tier, the better the in-game bonuses and content access. Sewer Pass owners can sell their Sewer Pass to others, which means that non-NFT holders can also play. As of writing this, Sewer Passes are valued at around 1.57 ETH ($2,400) on OpenSea.
What are BAYC, MAYC and 'doggo' NFTs?
Bored Ape Yacht Club (BAYC) are the original NFTs that were released by Yuga Labs in April 2021 for 0.08 ETH each. There were only 10,000 minted, with each having a unique set of attributes randomly generated from the attribute pool. BAYC NFTs are currently selling for between 71 – 1,024 ETH ($107-$1.32M USD) on OpenSea.
The Bored Ape Kennel Club (BAKC) NFTs were released in June 2021 and were initially offered for free, excluding the gas fees, to BAYC holders. But, despite the fact that there was a limited supply of only 9,602 of these doggos, most BAYC members did not claim them and so they were instead released for public sale. These NFTs are all Shuba Inus featuring a different combination of attributes. They are currently selling for between 6.7 – 12 ETH ($107-$1.32M USD) on OpenSea.
Mutant Ape Yacht Club (MAYC) was released in August 2021 using a Dutch auction system, whereby the price was gradually lowered from a starting price of 3 ETH until someone was willing to buy them. Alongside this system was an airdrop of Mutant Serum to existing BAYC holders who could then use this serum to mint a free MAYC by 'exposing' their BAYC NFT to the serum via smart contract. The serum would then be burned to create the new free NFT. These serums were released at 3 different scarcity levels. The MAYC are currently selling for between 14 – 350 ETH ($21,570-$531,615 USD) on OpenSea.
The purpose of the Dookey Dash event
The purpose of this event is to create a use case for the NFTs beyond simple 2D digital artworks, and thereby increase the waning interest in the NFTs. Yuga Labs' intent in doing so is to generate more sales so that they will receive passive income from the resales, as they receive 2.5% from each resale.
Community concerns
Even though the BAYC NFTs are part of the Bored Ape Yacht Club Universe, their owners are not eligible to participate in the event unless they also own either a BAYC or MAYC NFT or purchase someone else's Sewer Pass. This was a similar concern by community members in March 2022, when BAYC and MAYC holders were airdropped free APE coin, amounting to $1.4 billion given to BAYC holders and over $500 million given to MAYC holders.