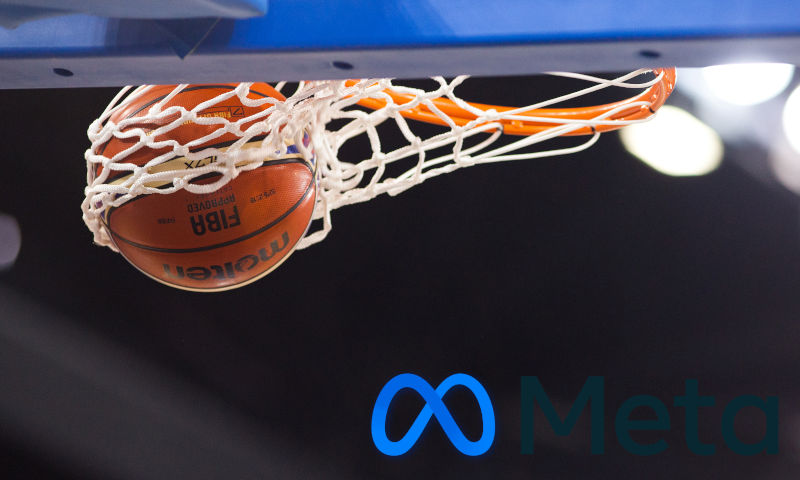 2022 saw a rapid rise in interest in both NFTs and the metaverse, with the metaverse even being nominated as Oxford Dictionary's Word of the Year (even though it only ranked second with a landslide vote going to 'Goblin mode'). Even governments are investing in the metaverse technology and implementing it on bureaucratic, tourist, and economic levels, as can be seen here. Therefore, it is understandable that other industries would also take an interest in exploring the new realm.
One such industry is the sports industry, most recently with the NBA signing a partnership with Meta to develop their own basketball game streaming platform on MetaQuest's Meta Horizon Worlds platform, announced on January 23.
This new project will enable fans to view 52 NBA basketball games for the current season for free in VR on the Meta's Quest virtual VR headset.
According to the press release, there will be "a package of 52 live NBA games including five immersive 180-degree monoscopic VR games in 2880 resolution featuring celebrity broadcasters, plus a selection of WNBA, NBA G League, and NBA 2K League games for the season. Available content will also feature game highlights, recaps, and archival footage. Fans can visit this dedicated NBA Arena in Meta Horizon Worlds starting today to watch NBA content with friends, compete in interactive mini-games, and cheer on their favorite teams."
Additionally, they have also promised to release NBA-licensed apparel in the Meta store for their user's Meta avatars. This means that you will be able to use it throughout the Meta Horizon Worlds' gaming suite, not just their NBA title. The NBA's tangible merchandise rakes in over $9.3 million USD annually, so it will be interesting to see how popular their non-fungible token (NFT) counterparts will be.
It is also noteworthy that Meta's Metaverse has so far failed to attract the traction that it was hoping to, with the platform losing Meta $9.4 billion by October 2022 with a user base of only 200,000 people. So, if this project pans out, it could mark a turnaround for the platform, and possibly attract further partnerships and users to the platform. But only time will tell.
The NBA's history with NFTs
Interestingly, this isn't the first time that the NBA has been associated with blockchain innovations. 
The Chicago Bulls released their first NFT collection, called 'The Bulls Legacy Collection' in July 2021. It was built on the Flow network and featured 567 NFTs divided into six designs and three rarity levels.
Their next NFT collection was called 'The Aurochs' and comprised only 23 unique NFTs each designed by a different artist. They were originally auctioned off for a starting bid of 0.2 ETH and currently have a floor price of 5 ETH (~ $7,950) on OpenSea. 10% of their initial profits went to a non-profit organization called After School Matters.
LeBron James followed suit in March last year when he partnered with Crypto.com to release his NFT collection named 'The Moment of Truth.' The collection comprises 5,500 NFTs featuring LeBron James and was airdropped to fans who scanned the QR code hidden in the video posted in the announcement Tweet:
These NFTs come in three tiers, with duplicate groups of varying rarity. But, the best part was that although the initial airdrop was free, all proceeds from further resales (5% fee) would be going to the LeBron James Family Foundation (LJFF). According to Crypto.com, they are still popular and selling for between $12 – $1,700, depending on rarity.