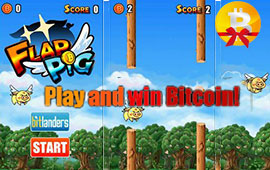 "Yeah, I'll buy Bitcons… when pigs fly!"
I'm sure you've heard that one before considering how there are several people in this world who still doubt Bitcoin and its rapidly increasing popularity.
Well, now is your chance to throw it back in their faces with a brand new Bitcoin-themed mobile game: Flap Pig!
Based on the wildly popular and insanely frustrating game Flappy Bird, Flap Pig features a golden flying pig named Foo who is looking to add more Bitcoins to his stash. For those who aren't familiar with the game or its predecessor Flappy Bird, you control a flying pig and tap the screen of your jump to prevent him from hitting objects as you fly and collect Bitcoins. And you know what the best part is? The game's creator, BitLanders, a social sharing and community network where you can earn Bitcoins, wants to give YOU Bitcoins for your Flap Pig efforts. This is not a joke folks.
Applications that pay users for their efforts are not new, and recently the trend has extended into the Bitcoin application space. Considering just how popular Bitcoin faucets are, it's easy to imagine how many people would be interested in earning Bitcoins by playing games on their phones.
Flap Pig seems like a great option to take advantage of this space. It's quirky, it's very Bitcoin-specific and ridiculously simple to pick up. After the success of Flappy Bird, it just makes sense to make this game.
Try out FlapPig now iOS and start earning some Bitcoins.