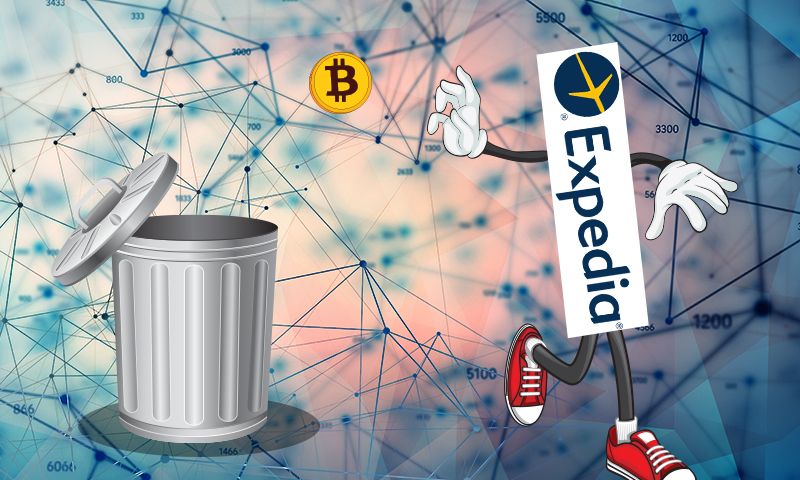 Expedia, a US-based travel booking company which began accepting Bitcoin in coordination with Coinbase is no longer accepting Bitcoin payments. The News first broke out when crypto enthusiasts published a post on Reddit. The post and comments by Redittors states that Expedia was no longer supporting Bitcoin payments. Apparently, Expedia stopped receiving Bitcoin payments since June 10.
Redditor Post
One Redditor expressed his/her anger at the news: "Expedia.com, one of the largest sites to book flights/hotels on used to take bitcoin for years… I went on there to look at flights and noticed they no longer accept it. customer support said they stopped accepting it June 10th. that sucks! a lot of us in the tech industry get a portion of our salary in bitcoin and it was really good to use Expedia for flights. I won't be using them anymore!"
Expedia Confirms it no Longer Takes Bitcoin Payments
Expedia's Sr. Communications Manager, Christie Hudson confirmed the news. Apparently, Expedia stopped taking Bitcoin payments since May 10th: "I can confirm that as of May 10, 2018, Expedia no longer supports Bitcoin as a payment method. Currently, we do not feel that we are able to offer the best experience for those using Bitcoin but will continue to evaluate various options to offer travelers flexible payment solutions."
The fact that the Expedia halted Bitcoin payments without prior notice could be annoying to the small niche of people who used Bitcoin to pay for their flights. There was no information available in the Newsroom about the move, but the Terms and Conditions page for the Bitcoin is still accessible.
New Opportunities for Competitors
Some members of the crypto community speculated that Expedia had to give up on Bitcoin payments due to Coinbase's custodial Merchant Tool Services policy. Nevertheless, the removal of Bitcoin payments on Expedia and the way the company handled the change in policy is opening opportunities for its competitors who are eager to capitalize on Expedia's blunder. CheapAir.com, destinia.com, abitsky.com and others are filling the gap Expedia left behind.
In the case of CheapAir, the company was accepting Bitcoin using Coinbase wallet support but now its Bitcoin payment system is integrated with BTCPay. This serves to reaffirm suspicions about Coinbase's influence over merchants in the space, but also the availability of viable alternatives. Merchants like CheapAir are also finding out that once they integrate other cryptocurrency payment systems, they can offer deals denominated in other cryptocurrencies as well. CheapAir offers deals in BCH, LTC and DASH via Gocoin Exchange.
Responding to its Customers
Apparently, the cryptocurrency consumer niche is growing, prompting merchants to fill the void that Expedia is leaving, while showing that there is a myriad of payment services to circumvent Coinbase.
CheapAir's CEO points that the new cryptocurrency acceptance is a response to the request of its customers. He said: "In different ways, Litecoin, Bitcoin Cash, and Dash all promise improved transactability than their predecessor, with faster transaction times and/or lower fees," CheapAir noted in a press release that "Over the last six months, we've seen a huge uptick in the number of customers requesting alternative currencies, so we've worked hard to integrate the three that were most requested." This serves as consolation to those angry Redditors, who can keep on using their coins to fly around the world.