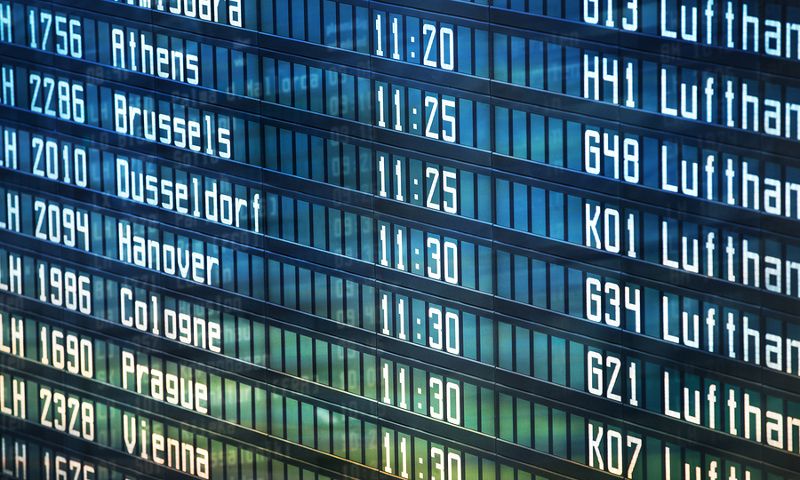 As Bitcoin becomes a more widely used currency, travellers can also reap the benefits. The tourism industry stands out as one of the earliest adopters of Bitcoin and one of the key beneficiaries as well. Naturally, travellers look for a safe currency they can take around that is also widely accepted. With Bitcoin they have these advantages, and the industry has been quick to realize the potential. That is how Bitcoin travel emerged as a serious option for travellers as early as 2013.
Tourism is a massive industry and gradually Bitcoin adoption is continuing. The ecosystem of companies and establishments offering Bitcoin deals to travellers is becoming ever more sophisticated. We've compiled a list of excellent Bitcoin travel websites to help you navigate it. So why dont you plan and book your next trip using Bitcoin?
airBaltic
airBaltic Airline Accepts Bitcoin
The Latvian carrier has become the first airline to accept Bitcoin for its tickets to 60 destinations in Europe, the Middle East, Russia and the CIS, becoming a true Bitcoin travel pioneer. The fact that they break the top 10 on the 'most innovative airline' list is no surprise.
According to their website, purchasing flights with Bitcoin is currently only available for Green and Green Plus tickets, and for flights booked at least five days ahead of the scheduled departure.
This leaves plenty of options for anyone looking to travel on Bitcoin.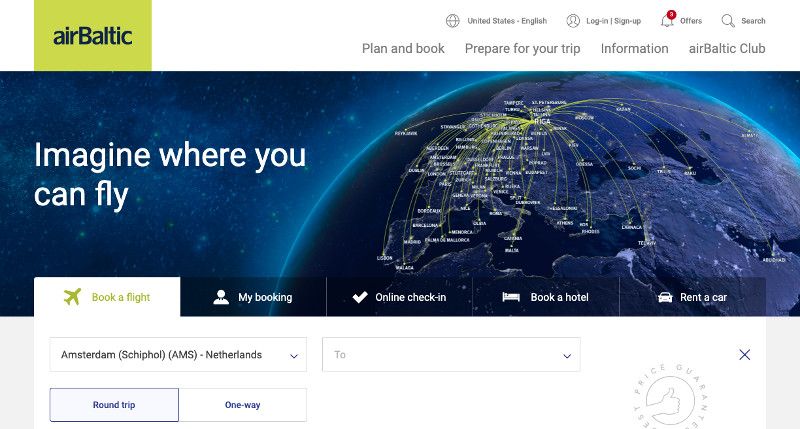 Destinia.com
Book flights and hotels with Destinia
Destinia was also one of the earliest movers in the Bitcoin travel industry, so you can pay for your hotels and plane tickets on their site with our favorite coin! Their 24 hour support, competitive prices, and wide coverage make it a great option for travellers.
If you are looking for more information about Destinia or about purchasing travel packages through this online agency using bitcoin, read our review of buying tickets with Bitcoin at Destinia.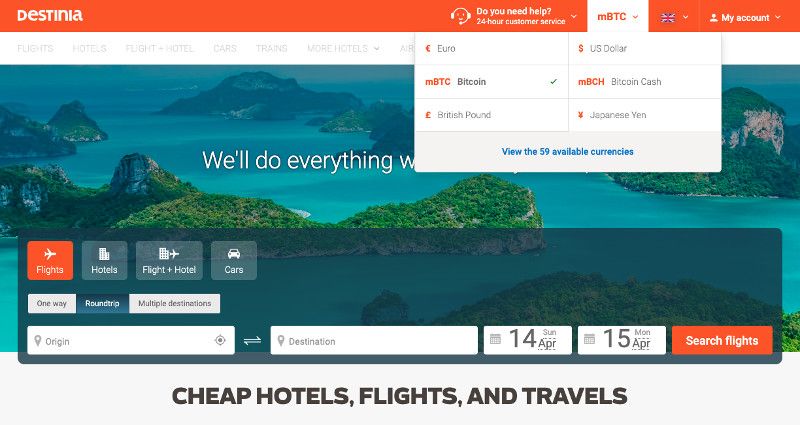 CheapAir.com
Book flights, hotels, and rent cars with Bitcoin
CheapAir was established in 1989 and based out of Calabasas CA. In 2013 they became the first online travel agency to begin accepting Bitcoin for purchasing flights.
They adopted Bitcoin as a payment method following a question from a customer, who asked if paying with for the trip with Bitcoin was possible. CEO Jeff Klee reacted to the question immediately, and within a short period of time, the Bitcoin payment options was up and running.
Since then they have expanded the list of cryptocurrencies they accept on top of Bitcoin to include Litecoin, Dash and Bitcoin Cash. You can also easily book hotels with Bitcoin at the same time.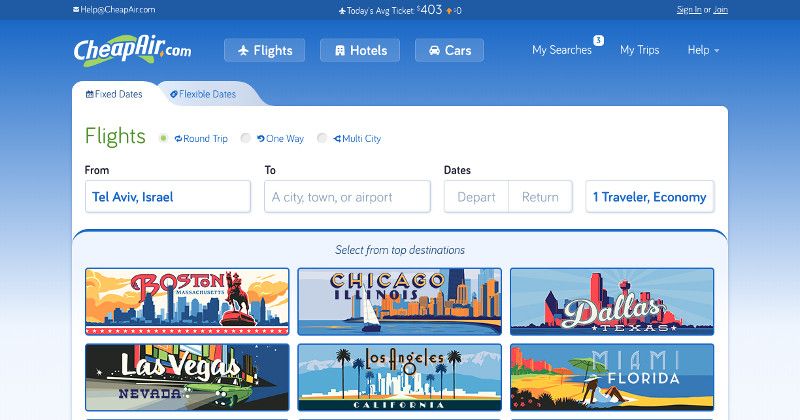 Travala.com
Book flights, hotels, and activities with Bitcoin
Travala is a blockchain-based travel booking platform founded in 2017. They are focused on offering cryptocurrency friendly booking options for any of your travel needs. You can buy flights, book hotel rooms, or arrange activities from the single site.
More than just accepting Bitcoin, Travala accepts Binance Coin, Ethereum, and Dogecoin, to name just a few.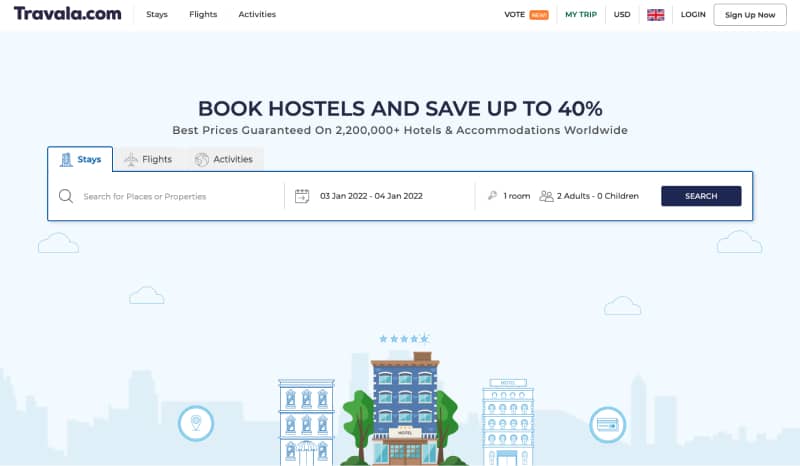 CoinMap.org
Find Hotels that Accept Bitcoin
We've have already written about how great CoinMap is, but it warrants another mention here. CoinMap is a resource for finding Bitcoin merchants around the world, from restaurants and bars, to Bitcoin ATMs and retailers.
What makes this tool so useful for someone looking to travel with Bitcoin is the option to filter out lodgings. Planning to visit Prague? Just locate Prague on the map and you will see all the hotels and hostels in the city that accept Bitcoin as a payment method.
Why not search for a few restaurants that accept BTC while you are at it?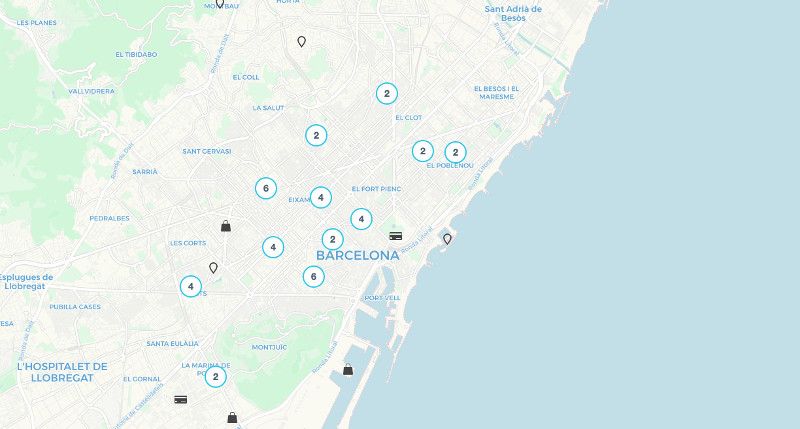 GetYourGuide.co.uk
Book tours and attractions with Dogecoin
GetYourGuide are an attractions specialist that accept Dogecoin. GetYourGuide launched in 2009 and has since sold over 45 million tickets to explorers around the world.
Whether it is a concert, a visit to the zoo, or boat tours, you can pay for almost anything with DOGE on GetYourGuide. With free cancellation, too, you can also get your money back up to 24 hours before your event begins.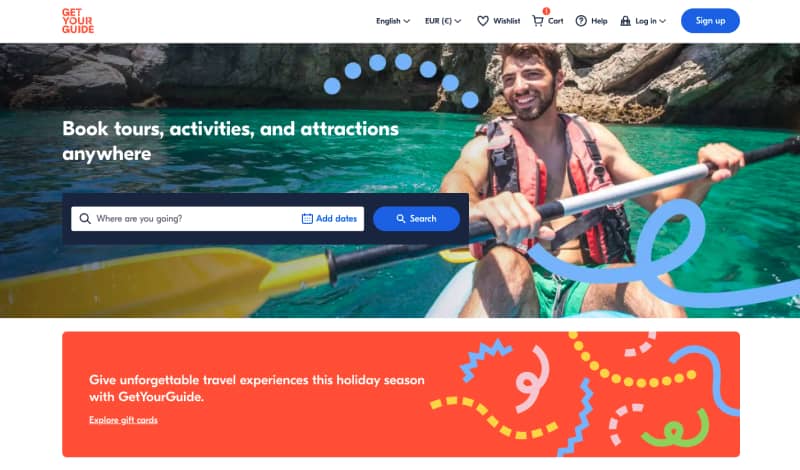 Advantages of Travelling with Bitcoin
Nowadays, taking Bitcoin as a compliment to credit cards can be very useful. Local Bitcoin exchanges allow users to change their coins for local currency. Bitcoin ATMs, dotted around the global, also allow you to withdraw local currency easily, at least in major cities.
The fact that Bitcoin is a web-based currency will let travellers go through border controls without facing scrutiny from the authorities regarding the amount of cash they carry with them. Additionally, Bitcoin accounts can reduce the risk from pocket pickers that travellers face. This is a tangible physical security advantage that Bitcoin bestows upon its users that is especially necessary while travelling.
This means that using Bitcoin on your next trip can give you the kind of travel insurance no one else can! Besides those advantages, Bitcoin allows travellers to have a safe money reserve if they lose their physical wallets, their credit cards or their cash. These are some of the greatest advantages of joining the Bitcoin travel wave!
The Bitcoin Travel Experience
Bitcoin can also enhance your travelling experience. By coming into contact with local Bitcoin users at Bitcoin friendly establishments, travellers will be able to see a different side of the destinations they visit. They will even have the opportunity to bond with the locals over their shared values and opinions on Bitcoin. Recently a programmer called Felix Weis completed a year-long trip around the world using only Bitcoin. The account of his experiences and the people he met is amazing, but it also shows travellers how far Bitcoin travel has come and the degree to which it is accepted internationally.
It is clear that as a traveller, if you want to carry your money safely, be able to convert it easily into local currencies and even enjoy a very unique travel experience, Bitcoin is the way to go. So go ahead, book your flights and hotels, pay for food, cab rides and memorabilia, enhance your travel insurance, and even go a step further and forge lasting friendships across borders by joining the Bitcoin travel wave.
More Bitcoin Travel Resources
We will keep on adding information about every aspect of Bitcoin travel, to keep you up to date. We also hope to encourage Bitcoin tourism and have them open up more and more vendors and industries to the advantages of Bitcoin. In the meantime, we will keep you informed as we expand our lists of travel sites that accept Bitcoin, through our newsletter as well as through this page.