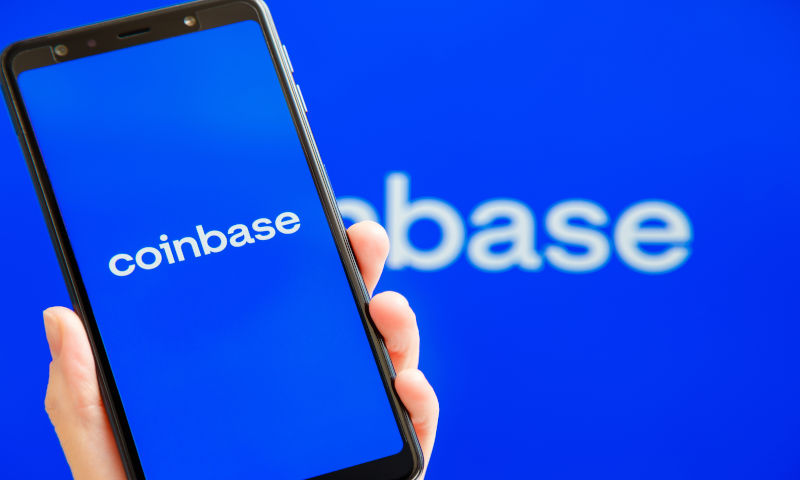 Coinbase Wallet is a self-custody crypto wallet that allows the user to store and trade cryptocurrencies from a variety of blockchains. This, combined with its affiliation with the Coinbase cryptocurrency exchange platform, has made it one of the most popular cryptocurrency wallets out there. In our Coinbase Wallet review, you'll learn everything you need to know about Coinbase, as well as how to create a Coinbase wallet.
What is Coinbase Wallet?
Coinbase Wallet was released by Coinbase as a mobile app in 2017. It was originally intended as a decentralized, self-custody wallet for its users who were concerned about keeping all of their cryptocurrency directly on their cryptocurrency exchange platform. It accomplishes this by allowing its users to manage their accounts and keys in a single wallet in a secure way that is off platform. They then developed it into a desktop app as well. However, it is not just a wallet, as it also allows its holders to use decentralized finance (DeFi) liquidity pools to supply or borrow crypto and join and participate on DAOs. According to Coinbase, there are around 1.4 million Coinbase wallet users.
How does Coinbase Wallet work?
Coinbase Wallet is a self-custody wallet that is not connected to the Coinbase platform unless you choose to connect it yourself. It is a multi-blockchain compatible wallet that can also be connected to Ethereum and all EVM-compatible networks including Polygon, Arbitrum and Avalanche C-Chain, among others.
When dApps transact with your Coinbase wallet, all of these transactions are transparent and traceable. This is because they are authenticated by smart-contracts just as all other blockchain-based transactions are. This is why you do not need to provide any of your personal information when you create your wallet. In fact, Coinbase even allows users to change their username once a year for an extra degree of anonymity protection. Furthermore, all interactions with the wallet require security promptings, even when you have not been engaging with the website that your wallet is connected to for a short while.
However, this only applies to the wallet itself. When you try to apply to DeFi applications, especially those based in the United States, may require ID authentication. This means that they will know to whom any wallet belongs when that wallet is connected to their registered account.
Which cryptocurrencies is it compatible with?
Coinbase Wallet can be used to store Bitcoin (BTC), Ethereum (ETH), Solana (SOL), Bitcoin Cash (BCH), Ether Classic (ETC) and Litecoin (LTC,) as well as Ethereum and Polygon-based non-fungible tokens (NFTs,) although it should be noted that Polygon is built on the Ethereum blockchain and so utilizes the same type of tokens as those based directly on the Ethereum blockchain.
Some of the main compatible cryptocurrencies include:
Bitcoin (BTC)
Ether (ETH)
LiteCoin (LTC)
Tether USD (USDT)
USD Coin (USDC)
Binance USD (BUSD)
NFTs that were created on the Ethereum blockchain through intermediary platforms like OpenSea
In-game currencies and NFTs from dApps built on second-layer side-chain platforms such as Polygoin or Enjin. These include games like Skyweaver and Coin Hunt World
note
Coinbase has announced that as of February 23, Coinbase Wallet will no longer be supporting BCH, Ethereum Classic (ETC), Stellar (XLM) or Ripple (XRP) due to low usage. Additionally, some cryptocurrencies such as BTC can only be stored on the mobile app and not on the desktop extension of the wallet. The only blockchains that are supported on the desktop app are Ethereum and Solana.
How to use Coinbase Wallet
How to create a Coinbase Wallet
Go to the Coinbase Wallet download page
Click 'download' in the top right corner of the page and then choose which version you would like to download
For desktop, select 'Add to Chrome' to add it as a Google extension
Once downloaded, click 'Create new wallet'
Copy and save the 12-word seed phrase somewhere secure
Create a password and then set a username
The information fields that follow are optional
Set the Coinbase wallet as an extension
How to deposit to Coinbase Wallet
You can buy tokens directly within your Coinbase wallet by first logging into your wallet: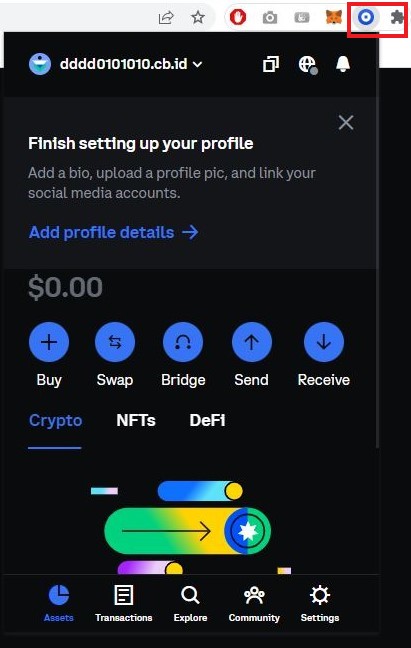 And then clicking 'Buy'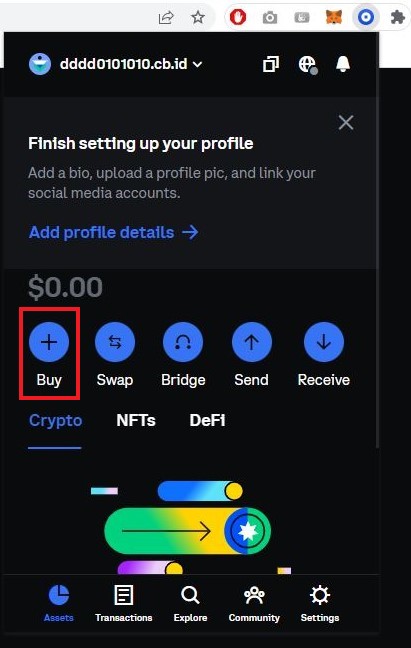 This will allow you to buy crypto directly with your debit card within over 90 countries. The payment options will vary depending on your region.
You can also transfer crypto to your wallet from other sources by using your public wallet address. The link address can be found by opening your Coinbase wallet and clicking the 'Add crypto' tab.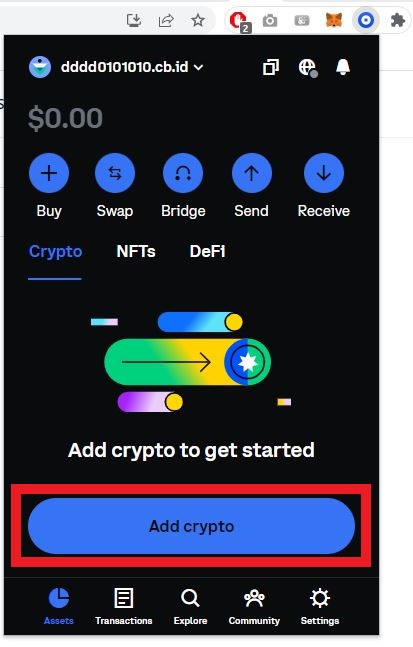 Select the 'Transfer from another wallet' button.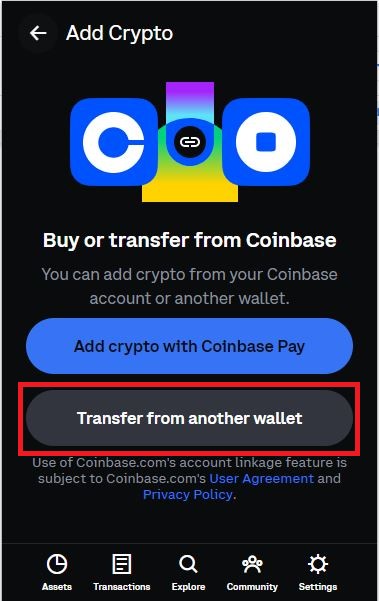 Then copy your wallet address, either by scanning the QR code or clicking the 'copy button.'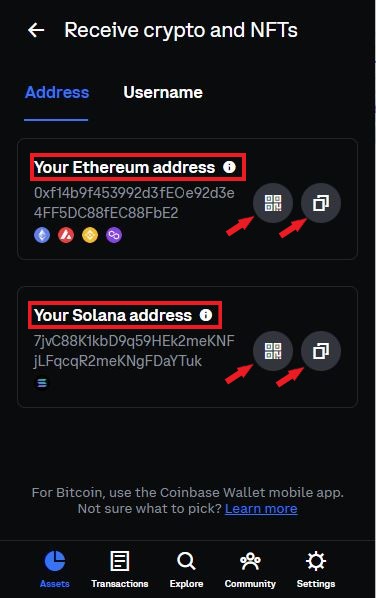 Then, either send it to the person who wants to transfer funds to your wallet or use it to transfer funds to yourself from another wallet or DeFi platform.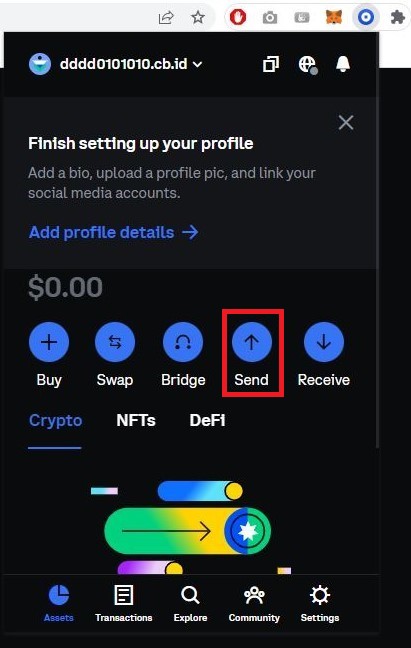 How to withdraw from Coinbase Wallet
To withdraw crypto from your Coinbase Wallet, click the Buy/Sell tab.
Click 'Buy / Sell' tab
On the 'Sell' tab, select the asset you want to sell and enter the amount
Click 'Sell' > 'Sell now' to complete this action
You can also choose to Cash out your cryptocurrency as fiat currency by selecting the Assets tab at the bottom of your wallet's home page. Coinbase Wallet supports over 50 fiat currencies.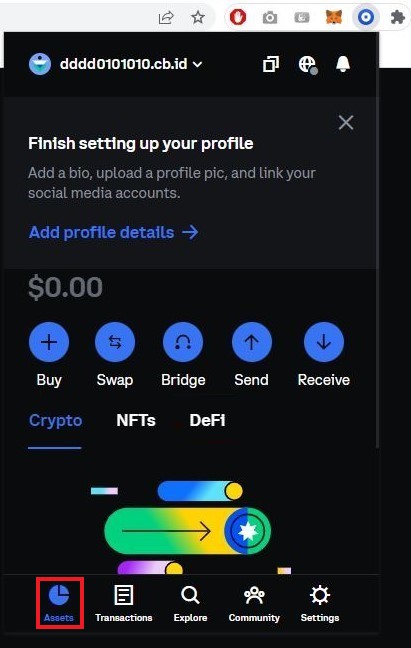 Then:
Under the Cash out tab, enter the amount you want to cash out and then click 'Continue'
Choose your cash out destination and then click 'Continue'
Click 'Cash out now' to complete your transfer
Other actions you can do through Coinbase Wallet
Coinbase Wallet also provides DeFi services to its users. These services can be accessed by selecting the DeFi option on the wallet's home screen.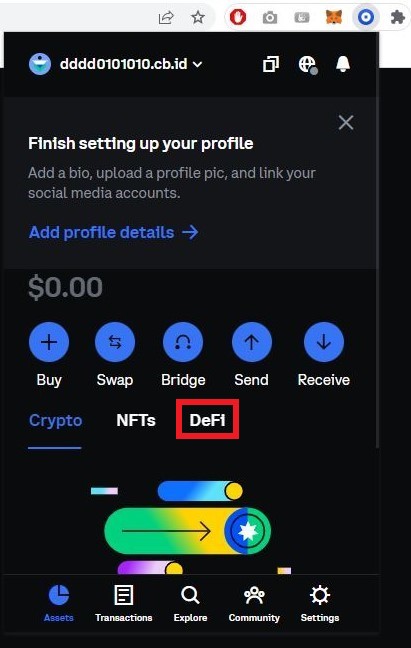 You will then need to buy Ether before you can gain access to the DeFi services. These services are accessible by connecting the wallet to a compatible decentralized application (dApp) such as Coinbase's cryptocurrency exchange platform, BNB Chain dApps, or other platforms. You can then set up the wallet's contents to perform activities such as staking and loaning crypto. However, those funds will be inaccessible until the contracted period is complete.
Pros and cons of the Coinbase Wallet
| | |
| --- | --- |
| Pros | Cons |
| Multi-blockchain compatibility | Only compatible with Ethereum and Polygon-based NFTs |
| Decentralized | Manual logout |
| Easy download | Poor customer support |
| Supports over 100,000 cryptocurrencies | High transaction fees |
| Easy to use | Some features not offered on desktop app |
| Anonymous | No hardware wallet compatibility |
Wallet features
| | |
| --- | --- |
| Feature | Yes/ no |
| Secure | Two-factor authentication, but no automatic logouts. |
| Customer support | 24/7 customer support |
| Mobile app | Yes |
| Desktop app | Yes |
| Cloud Storage | No |
| Cold storage | No |
| Account backup | Yes – possibility to restore wallet with a recover phrase |
| Decentralized | Yes |
| Anonymous | Yes |
Fees
Creation cost – Free
Service fees – 1.49% to 3.99% depending on payment method, location and order mode
Gas fees (charged by Ethereum)
No staking fees
5% recovery fee
Security
Coinbase wallet secures user keys with Secure Enclave technology, as well as a two-factor authentication for all transactions, including sending a code to your mobile number. Coinbase encrypts all of its users' data with AES-256 before backing up in FIPS-140 USB drives which are then stored in safe deposit boxes and vaults in different locations. You will also need to input your password in order to connect your wallet to any third-party platforms such as cryptocurrency exchange platforms or NFT gaming dApps.
Accessibility
Coinbase Wallet is available in over 90 countries, accepts over 50 fiat currencies, and is available on desktop, iOS and Android devices.
Average user ratings