CoinPoker is a blockchain-powered poker platform that debuted in 2017, and is widely considered to be among the top providers available in the online poker sector. If you love cryptocurrency and poker then this is the betting platform for you. Let's have a look at Coin Poker and see what they have to offer.
Casino games on Coin Poker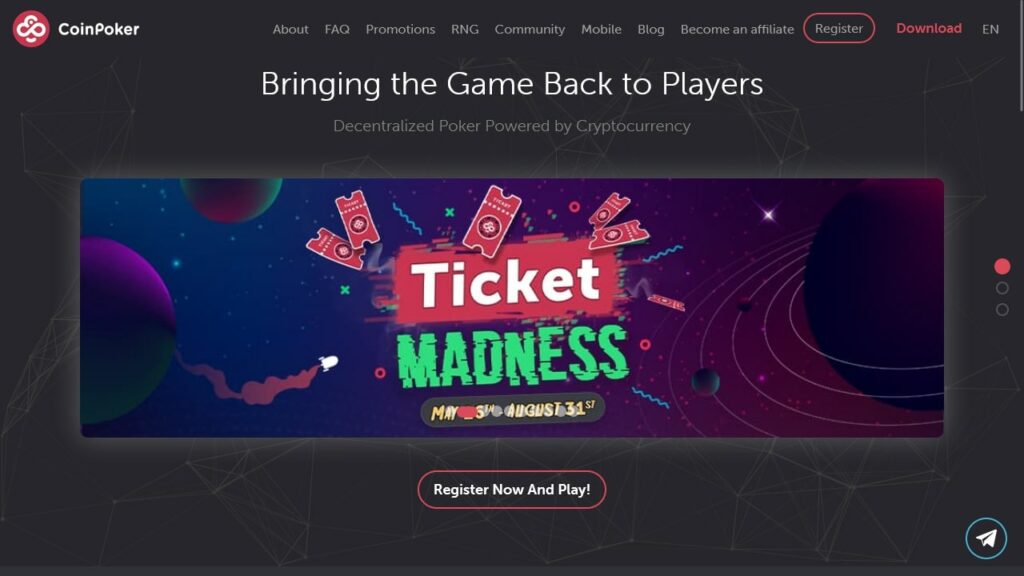 CoinPoker prides itself on being one of the best poker providers, and in doing so limits its game selection. They only offer poker, but they do a damn good job at it.
There are hundreds of poker tournaments going on at any given moment for you to join.
Their most frequent game offerings are No-Limit Hold'em, 5 Card Omaha, and Pot-Limit Omaha.
All games are provably fair thanks to their use of random number generation technology, RNG for short, promising decentralized card shuffling results that you can verify.
Coin Poker sports & esports betting
CoinPoker also offers a sportsbook, but unfortunately, this feature is only available on the mobile app and not on any desktop devices right now. Since it first opened its doors, the sportsbook offers betting on 15 different sports, including pre-match and in-play markets. Place your bets on Cricket, Ice hockey, Tennis, Volleyball, Handball, Boxing, Martial Arts, Cricket, and more.
Coin Poker crypto & payment methods
CoinPoker only accepts cryptocurrency as a payment method, there are a few options, but ultimately this is an all-cryptocurrency experience. This makes sense as crypto transactions are faster, more secure, and cheaper.
Currently, CoinPoker accepts deposits and withdrawals in BTC, ETH, BNB, BUSD, USDT, and MATIC, as well as CHP, their own in-house cryptocurrency. They also offer P2P transfers and CHP to USDT converting, and vice versa, for those interested.
CHP, otherwise referred to as Chips, is the ERC-20 token of CoinPoker. Holding and using this token within the platforms allows you to claim discounted withdrawal fees, and receive a 20% rakeback on funds used. Use your CHP to claim promotions, place bets, as well as make deposits and withdrawals at a discounted fee.
It is to be noted you should never send funds from an exchange directly to CoinPoker, the payments need to be sent from an account's verified wallet.
When you transfer directly from an exchange, the deposit comes from the exchange's wallet, holding hundreds of other accounts. Funds sent directly from an exchange will be lost and non-refundable.
Coin Poker bonuses
This CoinPoker game also provides players with access to a broad variety of incentives and promotions, some of which include a Rakeback of 30% per week. Some of the promotions you can take advantage of can be found on their website, including but not limited to high roller tournaments, giveaways, bounties, Cosmic Spins, and more. We won't go too much into detail, as we want you to experience the excitement firsthand.
Their main promotions in accordance with community hype are their Rakeback promotion as well as their referral program. So be sure to check those out too for additional ways to earn. Overall this platform has a decent selection of bonuses and promotions, but not as show-stopping as we have seen from other casinos or gambling sites.
Support
CoinPoker provides an email customer support service that can assist you in answering any questions, providing guidance, and resolving issues. CoinPoker also provides its players with a Telegram channel in which users may meet and communicate with other players, or get assistance from admins/moderators. There is no live chat option; however, there is a FAQ section where users may learn more about the platform.
CoinPoker also offers customer support in the form of language support. You can play in languages such as English, Spanish, French, German, Portuguese, Russian, Japanese, and more. It is great to see more online gambling providers catering to their customers' language needs.
Languages
Coin Poker supports 7 languages.
English
Français
日本語
Português
Русский
Deutsch
Español
Why play at Coin Poker?
For many years, the world of online poker has tried to provide games that are both simple to access and secure for players. CoinPoker is an exciting contender that offers the possibility of resolving some of the market's inherent difficulties. The combination of poker with cryptocurrency is a match made in heaven. It all comes down to making it easy for people to play online poker, and CoinPoker is achieving that goal. All of this on top of the app functionality, provably fair games, excess crypto payment options, and a great referral program. Check out CoinPoker for yourself and enjoy their exclusive poker experience.