Creativity is one of the traits that we value the most in people. Why not carry that over into the pure Bitcoin casino scene? That is exactly the question that Rocket.run casino asked themselves, and they decided to explore uncharted territories with extremely creative proprietary games. The result: A pure Bitcoin/cryptocurrency casino that offers fantastic proprietary games, which can only fit into a category of their own because they are so unique. The bonuses and the opportunities to score huge wins on these games are also quite unique when you compare them to those that other pure Bitcoin casinos offer.
Casino games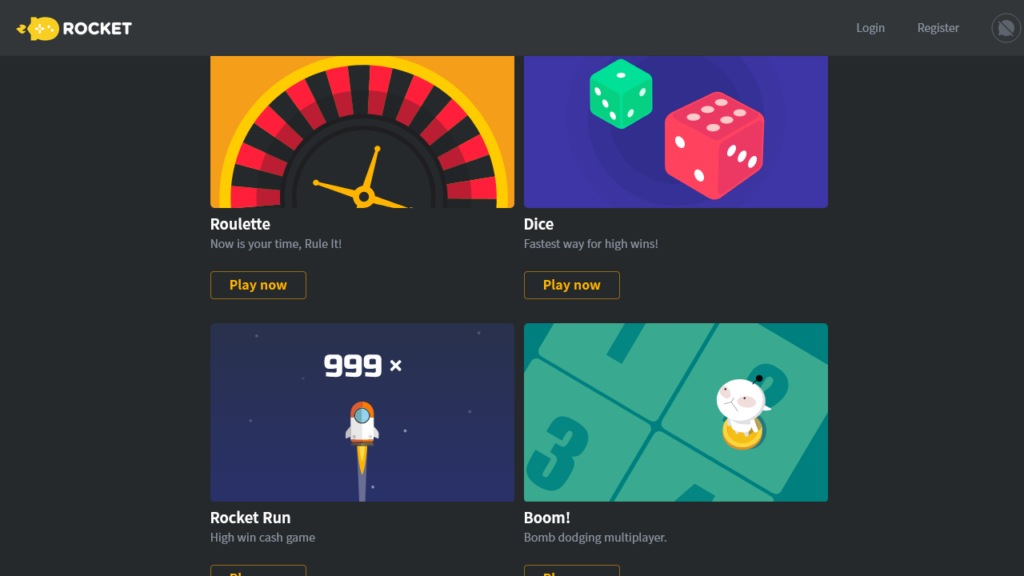 2 action-packed games that break every single stereotype casinos have created over the last century, are available for players to enjoy and score huge wins on. Both games are chance based and have exceptionally good graphics and sound effects. They create an exciting gaming experience, and they have a little more room for strategy and skill than the usual casino games. The games are: Rocket Run, Aqua, dice, roulette, Boom!, lottery, and slots.
On Rocket Run you pay to board a rocket launching into outer space. You must pick the right time to bail before the rocket blows up. The more that rocket travel, the more you can win and the bigger the risk you take of losing, so be smart and you will be able to score nice wins. On Aqua, just like on Rocket Run, you pay to board a submarine. Then you take it on an expedition in which you will see treasure chests on your sonar that you can claim. At the same time fish will attack you, so you can fight back. Ultimately you need to choose when to surface again and take your wins. The more time you are under water the more you risk and the greater the jackpots can be.
Payment methods
Withdrawals on Rocket.run are as quick as they can be. Players control their own casino wallets, and they can process a withdrawal whenever they want. Those withdrawals will come in as quickly as the respective cryptocurrency network can process them.
Bonuses
Rocket.run casino is one of a handful of pure Bitcoin casinos to offer a 20% referral bonus. This bonus will give you a 20% share of the house edge from your referrals. This means that you can refer anyone and make this a source of income you can play with. Apart from this unprecedented bonus, you also have access to a limitless faucet. You get free money to play and more money when your referrals play, so you can play some more!
Support
Given that Rocket.run is a pure cryptocurrency casino, customer service is simple. Every service this brand offers is straightforward, and the degree of automation is high. Provably fair gaming takes care of randomness on the games themselves, reducing the number of claims that the brand might get. Therefore, Rocket.run has professional customer care professionals available through email.
Their response time is quick, and they are extremely well-versed in everything that involves the games, payouts, and crypto in general. These representatives work around the clock on a 24/7 basis to make sure that your game-related inquiries get dealt with in a timely and professional manner.
Languages
Rocket.run supports 3 languages.
Why play at Rocket.run?
It is exciting to see how a pure cryptocurrency casino can be incredibly innovative while sticking to the philosophy that Bitcoin brought to the industry with it and offering incredible bonuses. Usually, all these are mutually exclusive, but Rocket.run made it possible for all these features to coexist. Its devs took it a step further with incredible proprietary games that are uniquely exciting. There are always more games in the pipeline at Rocket.run and we cannot wait to see how good they will be. So, if you are as intrigued about the prospect of these unique games, you should definitely try Rocket.run yourself!