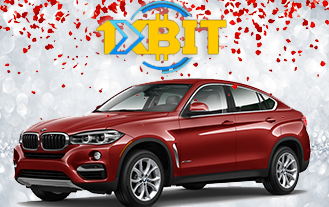 1XBit brings you a sensational twist on the whole Christmas bonus season. Take home the car of your dreams while you get other smaller bonuses. To do so you will have to undress the lady on the screen and complete the missions she will give you. This is truly one of those unbelievable Christmas bonus experiences in which you can win multiple times doing the things you like the most.
1XBit Presenter Bonus Details
While 1XBit's gorgeous presenter stands there staring at you, we will give you all the details about this wonderful Christmas bonus. To start playing, all you need to do is open the baubles on her dress. This action will make her dress shorter and will let you compete for the grand prize and all the small prizes on the way.
What are these prizes you ask? Well we only know the big prize at the end has 4 wheels, and here is how you can get it:
Start undressing the gorgeous presenter by clicking on the baubles.
You have to open one bauble per day from December 15th until the 31st.
You can miss up to 3 baubles and be eligible to win a BMW X6!
If you miss 4 baubles, you will only be eligible to win the smaller bonuses.
Each time you click on a bauble, you will be given 3 tasks.
Complete them to move on to the net phase, make the presenter's dress shorter, get a bonus the next day and compete for a marvelous BMW X6!
The BMW X6 Draw!
If you were naughty enough to completely undress the presenter, Santa will let you participate in the grand prize draw. The draw will take place on January 7th, 2017, at 18:00 (UTC + 3). You will be able to monitor the results on the page of the offer. So what are you waiting for? It is time to undress that presenter, complete those tasks, win all the small bonuses and get a shot at the car of your dreams! That BMW X6 is waiting for you to blast it on the highway, so make sure you take your shot at 1XBet!