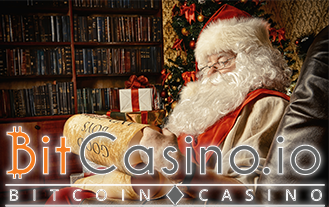 Have you ever wondered how Santa manages to carry all those gifts around? To make them, he has the elves; to deliver them, he has the reindeer; but to take them down the chimney and put them in your stocking, the only person who can help him is you! That is why Bitcasino.io is rewarding all of you who are willing to help Santa carry all those gifts with huge bonuses and tons of surprises!
Follow Santa Worldwide with Bitcasino.io
If you are keen on helping, Bitcasino.io will help you track him down. All you need to do is follow the Bitcasino.io Santa tracker and you will be able to claim a wide variety of Christmas bonuses instantly! Just take a look at the city Santa is in now, and then for helping him out, you will be able to get your bonus with a single click! The bonuses include:
Great deposit bonuses
Raffle tickets for a surprise grand prize raffle on December 27th
Many more surprises that Bitcasino.io will be announcing via email, Facebook and Twitter, so follow them as well as Santa!
Hurry to the next city and get your Christmas Bonus!
Santa is currently travelling around so go ahead and track him own. Help him out and claim your bonus. Nothing better than getting tons of gifts around this time of year, so you can spin and make your Christmas wishes come true with a huge win! It is time to follow Bitcasino.io and Santa for those bonuses and a chance to win that big price on December 27th! Take a trip around the world and enjoy with this amazing Christmas promo, right here with Bitcasino.io. Just click and start travelling to see where Santa is, and where he is headed next so you can enjoy a ton of Christmas bonuses!