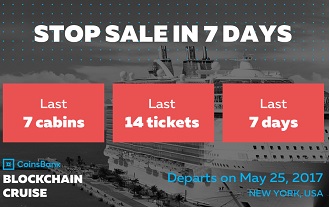 If you didn't purchase your tickets for the CoinsBank Blockchain Cruise yet, now is the time to do so. There are only 7 cabins left aboard this Royal Caribbean ship that will sail on May 25th, and there are only 7 days left to secure one of those cabins. This is going to be the blockchain event of the year, so make sure you get on board! The following is the official statement from CoinsBank regarding the sale of the last 7 cabins aboard the Blockchain Cruise.
CoinsBank Statement on Last 7 Cabins on Board the Blockchain Cruise
With millions of satisfied accounts holding customers and guests at previous events, CoinsBank is excited to announce a 3-week countdown to its 2017 annual event — CoinsBank Blockchain Cruise. Last year's CoinsBank event at the Turkish Riviera was a massive success. Previous events had a positive impact on the blockchain industry.
CoinsBank is Unique
CoinsBank distinguishes itself not only by being a sound financial services provider, but also as an industry leader offering education, training and collaboration for and by industry leaders, partners, customers and blockchain enthusiasts. The Blockchain Cruise will serve to further this outlook, changing the vision of blockchain, and the future of money!
The Blockchain Cruise
This will be a gathering of the finest blockchain minds on the planet on one of the biggest ships in the world and will depart from the aptly named, Cape Liberty Port, to make a difference in the world. With port calls in Puerto Rico, Bermuda, Haiti, and St. Maarten, the voyage includes 2 full days of conferences, 4 days of incredible adventures, networking and traveling, 2 days of workshops and live entertainment every night! This extensive program makes CoinsBank Blockchain Cruise the biggest networking event in blockchain industry.
Leading experts from around the world will attend the Blockchain Cruise to share their experience in implementation of the best solutions in the blockchain global world. Guests will include the leaders of the blockchain industry, executives, startups, and developers and will discuss the latest trends in the growing financial technology atmosphere.

Blockchain Cruise Topics
The hottest topics of the blockchain industry will be presented in 2-day conference program:
– blockchain and financial services;
– blockchain and card systems, payments revolution;
– energy trading and renewable energy;
– cryptocurrencies, Internet of Things (IoT) and much more.
Expect a week full of inspiration, talks, panels, luxury entertainment, traveling and plenty of time to engage with attendees/speakers. Don't miss out on this EPIC networking event! Take the next step and come on board before it is too late. Secure your cabin now at: www.coinsbank.com/cruise For partnership and sponsorship issues please contact event manager at kr@coinsbank.com