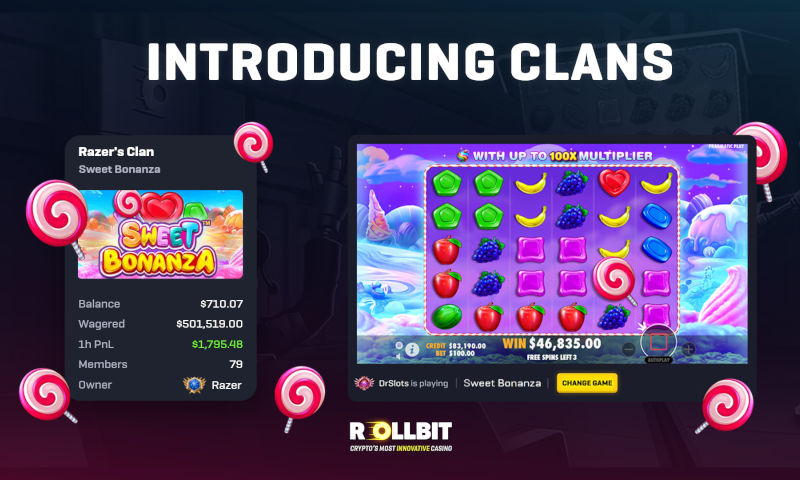 After a long anticipated wait, Rollbit casino has officially launched its Clans feature. Announced via a tweet on September 1st, 2022, Rollbit is allowing players to gamble together, win together, and celebrate together.
So what are Rollbit Clans? Rollbit Clans is a new feature allowing players to curate a team under one balance, with losses and profits split among members. Players will be able to contribute to a vault which can be used to play and wager, allowing players to win more and claim more from their bonuses.
The Clan owner can select players and admins to manage the Clans balance, while the players are given permission to wager on games with the allocated balance. Members are users who can enter the Clan with a minimum amount of funds and gain from profits incurred, but they do not have permission to play.
Creating a Clan is easy. Choose a name and minimum deposit fee for members. Then start adding players to your Clan and let the rewarding fun begin. If you have a Rollbot NFT linked, you will be able to create more than one Clan.
Joining a Clan is just as simple: head over to the public Clans page, choose your Clan, and depositing the set minimum amount.
Players and members can leave a Clan at any given time, and withdraw from their contributed balance as they do. Clans can also be disbanded if the owner no longer wants to manage the team, and all fund balances will be returned to the contributors.
Rollbit casino has made a name for itself as the most innovative gambling platform in the cryptocurrency casino space, and this news only proves this fact. This news is extremely exciting and brings something new to the crypto casino industry as a whole, we can't wait to see how this feature evolves the space.
You can read more about Clans and how their work in Rollbit's introduction, and you can learn more about Rollbit in general by checking out our in-depth Rollbit casino review. 
Visit Rollbit