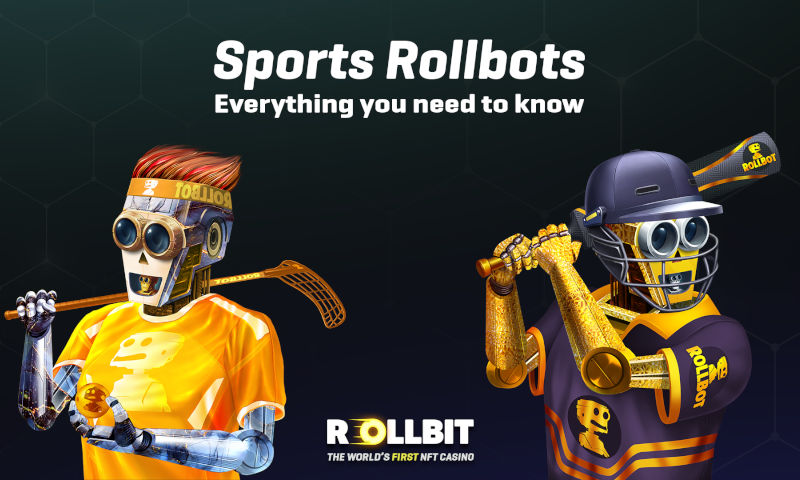 Rollbit is an online casino that has made its mark in the crypto gambling industry because of the massive profits it produced during its first NFT launch in 2021. The remarkability behind these NFTs, called Rollbots, was the level of utility each one had, providing innovation to the space. Rollbit made headlines once more with the debut of their second NFT project connected to the launch of their sportsbook, Sports Rollbots.
What Are Rollbit Sports Rollbots?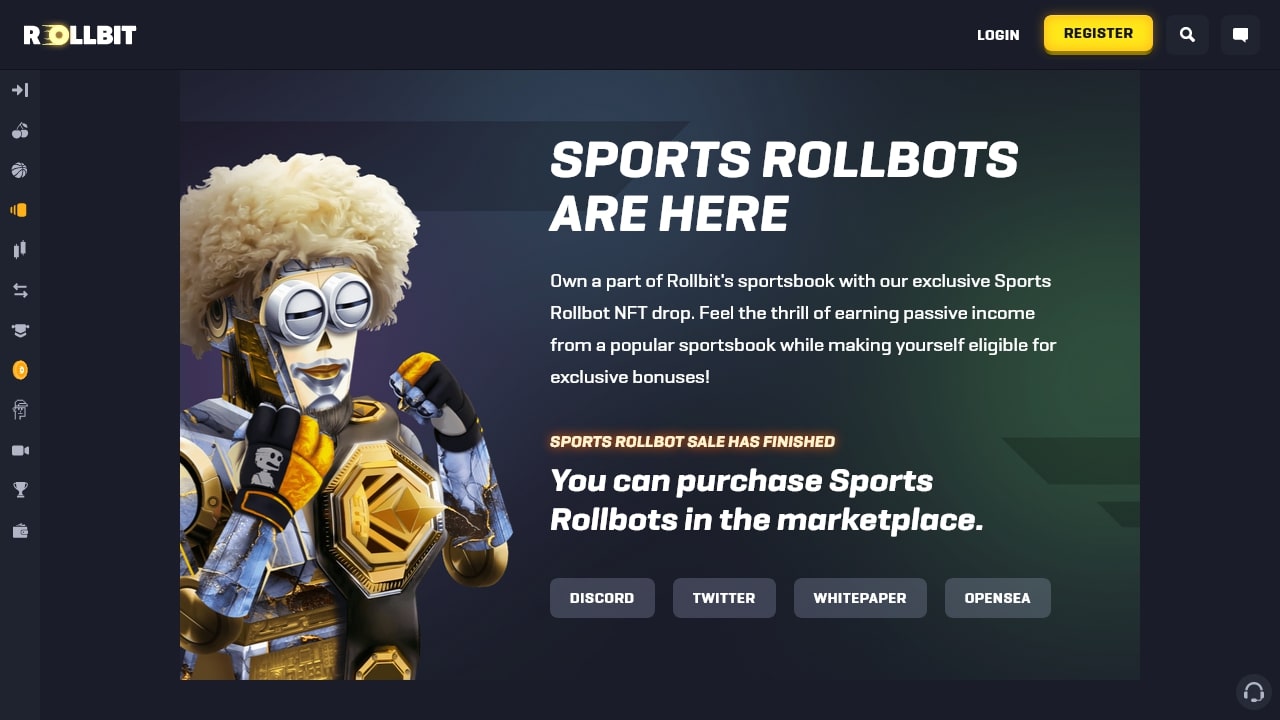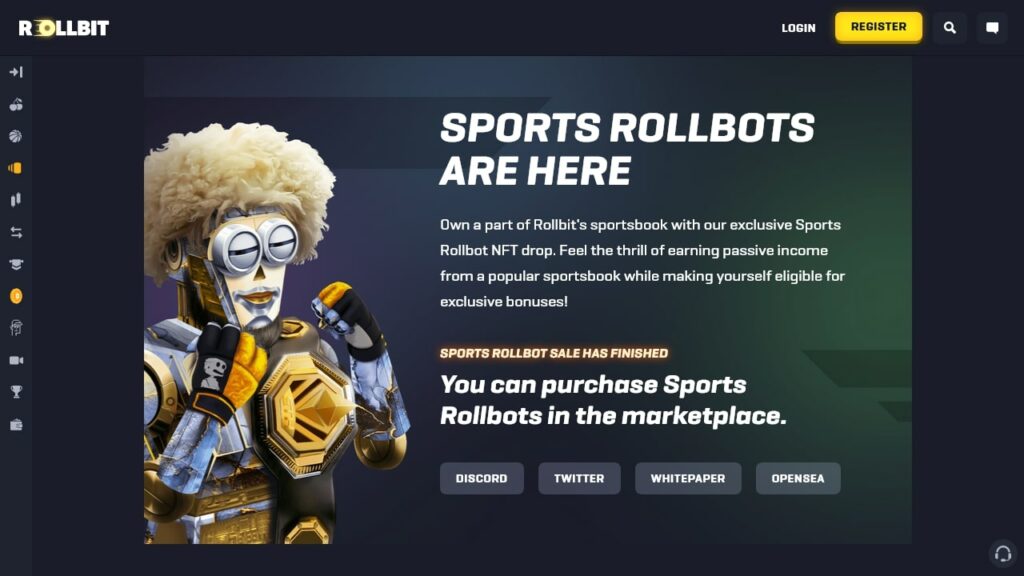 These NFTs, called Sports Rollbots, were constructed with distinctive features, based on algorithms utilizing more than 600 qualities to create sports-themed digital artwork while also functioning as a personalized VIP membership for Rollbit's new sportsbook.
The benefits of this VIP membership include owning a portion of the sportsbook platform and becoming eligible for generous rewards. By collecting Sports Rollbots that depict your favorite sports, you can increase the rewards you receive when placing bets on those sports.
Sports Rollbots follow the ERC-721 standard allowing people to trade Rollbots without requiring external permission because of their unique codes that exist on the Ethereum blockchain, proving their undeniable ownership.
Sports Rollbot Utility
Each Sport Rollbots' unique qualities have varying levels of rarity and these various traits determine the usefulness of each Sports Rollbot, these include:
Backdrop: The Sports Rollbot's background influences how many Rollbit Coins(RLB) the owner will earn.
Sport: The specific sport associated with a Sports Rollbot is considered the sport it is good at and thus when the sport betted on is matched to the owners' Rollbot, it will result in larger earnings.
Teeth: A Sports Rollbot's teeth are directly linked to the parlay multiplier affecting the increase in multiplication, and determining the owners' reward.
Eyes: The Sports Rollbot's eyes, which are used to perceive their environment, decide the worth of the wager the owner will receive.
Body: The quantity of sportshare, or profit share, for every Sports Rollbot is determined by its body type.
The Benefits Of Owning A Sports Rollbot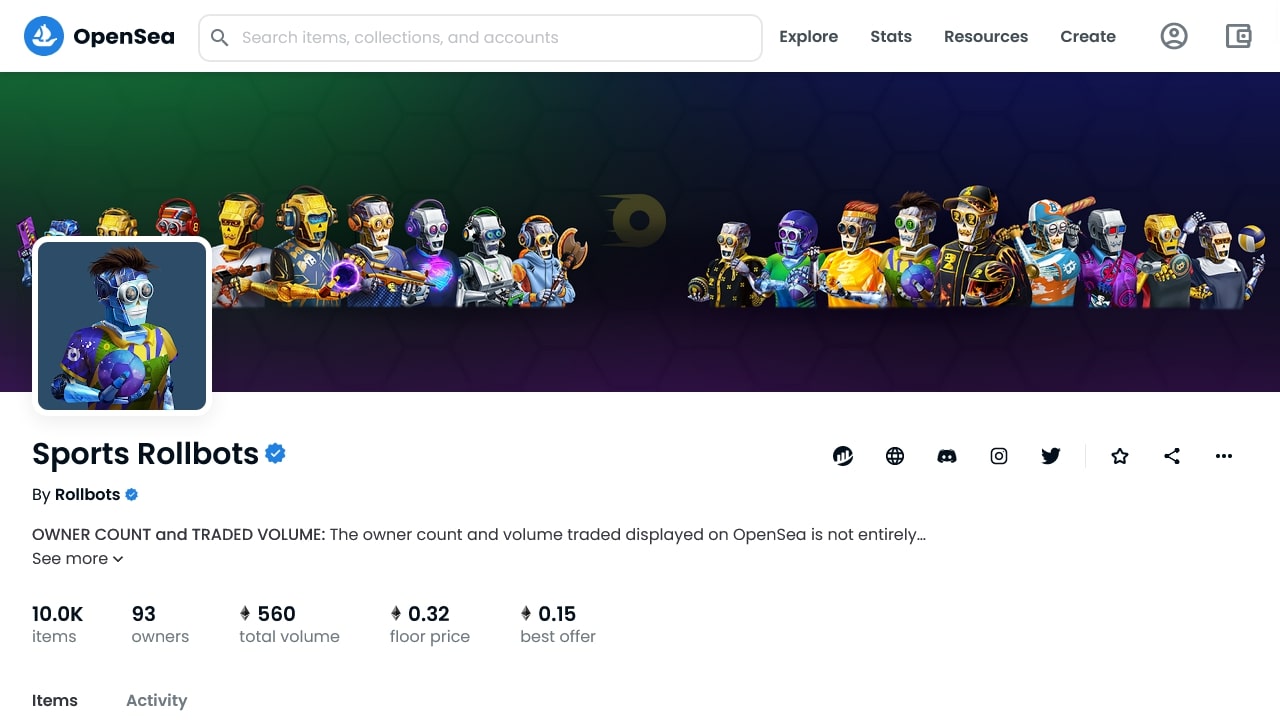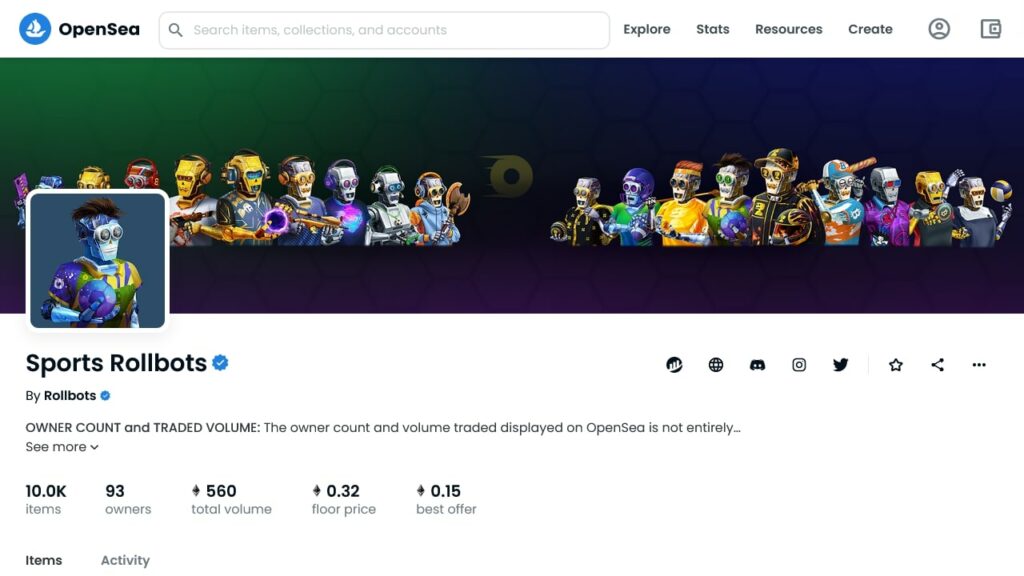 This NFT collection was designed with more in mind than a nice image, and was created to bring utility to Rollbit players. There are a range of benefits Sports Rollbot hodlers can expect to take advantage of.
Sports Rollbits Sportshare
Owners will get money back from staked Sports Rollbots in the form of a profit share that comes from the sportsbook operated by Rollbit. The Sportshare is directly linked to the Rollbot's body traits and it determines the amount of profit share that each Sports Rollbot will receive.
For example, Sports Rollbots will be eligible to receive a 10% profit share for all kinds of sports, but if your Rollbot is matched to its particular sport you can earn an extra 30% profit sharing because the Rollbot is playing to its 'strengths'.
Rollbit RLB Rewards
Your RLB rewards are determined by the Rollbot's backdrop and serve as raffle tickets for a place at the sportsbook lottery which occurs every time 100 Bitcoin blocks have been produced. For those that enter, they stand a chance to win 20% of Rollbit casino's profit which is split between normal lottery prizes and the main jackpot.
Rollbit Free Bets
These free bets are used to promote the sportsbook regularly, if you own a Sport Rollbots, you are eligible for enhanced free bets. Depending on the rarity of your Rollbot's eyes, you will be eligible for higher free betting amounts.
Sports Parlay Multipliers
A parlay is a beneficial kind of bet which enables sports gamblers to combine many bets into one, resulting in higher winnings if the bet is successful. Holders of Sport Rollbots, will have access to special multipliers called Combo Boosts which are added to their parlay profits multiplying the parlay winnings by over 100% depending on the holder's Sport Rollbot's teeth traits.
Betting With Sports Rollbots NFTs
If you are a sports fan looking to win big online, these Sports Rollbot NFTs are your opportunity. They are designed with the sole intention of benefiting players by providing never before seen utility options. If the results of the first Rollbot launch are any indicator, these new NFTs have the potential for even more excellence.
If you require any additional information you can read the Sports Rollbots whitepaper here before deciding which traits are suitable for your Sports Rollbot NFT. Otherwise, learn more about this innovative casino by checking out our in-depth deep-dive Rollbit review below.
Visit Rollbit