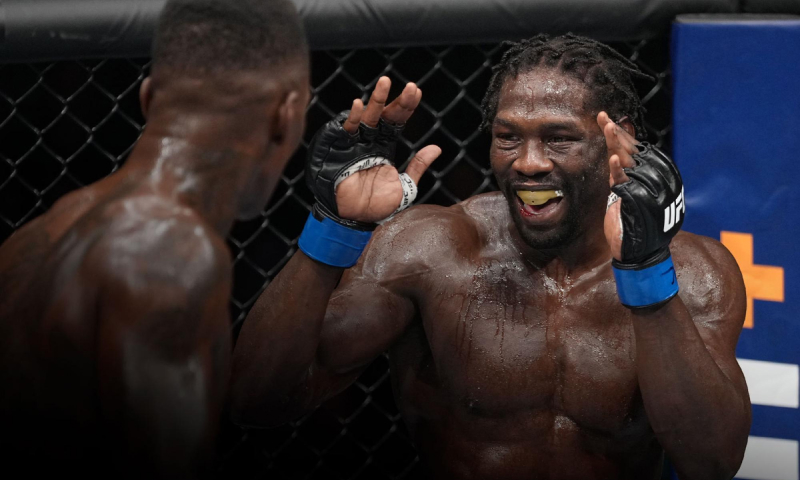 Welcome to the last card of this memorable UFC calendar. UFC Fight Night, the main event will be the former title challenger Jared Canonnier, looking to get back in the winning columns against Sean Strickland, who also happened to lose to the current Middleweight Champion in his last bout. With the Middleweight division in disarray, this could be a chance for either man to come out of this fight as top contenders.
In the co-main event, Arman Tsarukyan will be in action against Damir Ismagulov. Both coming off blockbuster fights that complemented their fighting styles. Ismagulov defeated Guram Kutateladze in a fight that was decided by the judges. Arman Tsarukyan will be looking for redemption after his loss to Mateusz Gamrot in his last fight.
In the main card lies a sleeper in Drew Dober and Bobby Green. This is a pay per view worthy fight. Drew Dober, also known as the people's chin, will be going up against one of the best boxers in the UFC in Bobby Green. You do not want to miss this one.
So many fights have been cancelled, leaving so many question marks on whether the card will hold the same weight with so many names missing. The welterweight undefeated prospect Michael Morales will have to settle for two fights this year as an injury forced him out. Brandon Royval will miss this card, due to an injury too.
Jared Cannonier (1.95) vs (1.83) Sean Strickland
Two top middleweight contenders close out the year in what promises to be a strikers' delight. Jared Cannonier has registered finishes in three different weight classes, only the second fighter to achieve such a feat after Conor McGregor. His recent fight was a title fight loss to the former champion Israel Adesanya, he comes into this fight as a slight underdog looking to get back into winning ways.
Sean Strickland's last fight was nothing but a surprise to many as he accepted a fight against an unranked opponent whilst being ranked 4th. He lost to Alex Pereira in a fight that lasted less than three minutes. Now he is looking to get back into the winning columns and possibly get a rematch with Alex Pereira who now sits on the Middleweight throne.
This fight is expected to be a striking fight, none of the fighters have a distinct advantage on the ground. Sean Strickland has the speed and height, while Jared Cannonier has the power.
Arman Tsarukyan (1.51) vs (2.50) Damir Ismagulov
Arman Tsarukyan is back in action and this time looking to defend his ranking against Damir Ismagulov. In Tsarukyan's last outing, he went up against Gamrot in a fight that Khabib considered to be the fight of the year as it really was a wrestler's delight. Many believed that Tsarukyan had done enough to get the win, but that wasn't the case. He looks to get back on his chase for gold this weekend.
Damir Ismagulov is one of the exciting prospects in the lightweight division; nobody really knows his ceiling. With 24 wins and only 1 loss, he is an amazing striker that can also grapple with the absolute best. He will need the grappling skills in this fight as the chances of Tsarukyan choosing to grapple are very high.
The odds have Arman Tsarukyan as the favourite. Looking at their resumes, Arman has faced tougher opponents and has always been able to make it a fight worth questioning the judge's verdict when he loses. Damir is yet to get a finish in the ufc octagon, and this just gets interesting because him finishing Arman is very unlikely, so how can he possibly win?
Drew Dober (1.65) vs (2.21) Bobby Green
Bobby Green takes on Drew Dober, a match made in heaven. Riding a two win streak, Drew Dober is coming off an impressive win over Rafael Alves, a liver shot TKO in the third round after a wild back and forth for two rounds straight. That is Drew Dober's favourite kind of fight, a grimy fight that has an excess of violence until a man eventually drops.
On his doorstep knocks Bobby Green, one of the best boxers in the UFC, he has the speed, the head movement, and he is all kinds of grimy. Could this be the night Dober gets knocked out for the first time? On paper this is everything that a mixed martial arts fan would love, will it live up to the hype?

Drew Dober opened as the favourite, understandably so as he can take most men's hardest blows without flinching. Bobby Green's last fight was a loss against Islam Makhachev. He will be looking to come out and help people forget about that performance.
Bet on the UFC Fight Night at Stake.com
This is a call out to all MMA fans, if you believe you know MMA, this is your chance to win big with lesser risk on your side. Place a bet using stake.com and get the split decision insurance, this means that, if the fighter you had chosen to win loses by split decision, you can earn your money back.
Whilst you're at it, be sure to check out more great Bitcoin and crypto sports betting sites, explore the special deals they offer and their daily promotions. You might just win more than you had bargained for!
Visit Stake