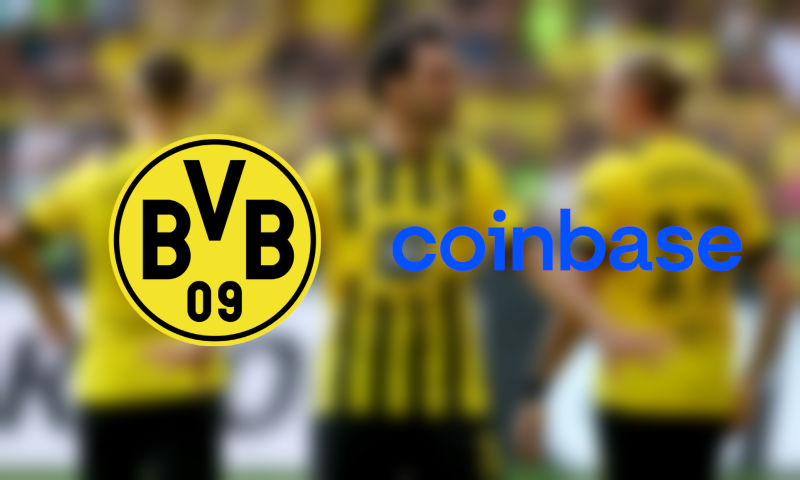 Coinbase is now a premium partner of the German football giants Borussia Dortmund. This comes after Coinbase received its local German licence in 2021, awarded by the German Federal Financial Supervisory Authority (BaFin) for crypto custody and proprietary trading – limited to crypto assets and account units.
The partnership initially started in July 2022, and after the extension, it is reported that Coinbase has already offered crypto education to the Black and Yellow workers. Dortmund seems more than happy with the commitment they have made as they believe it is an innovative one.
What is Coinbase?
Coinbase is a platform that was built in 2012 to create easy access to a wide range of crypto products. Its highest revenue in a year as recorded by coinbase.com was $7,42 billion, and its net income sits at $3,62 billion. Both figures were recorded in 2021.
Coinbase also offers a cryptocurrency wallet used by over 10 million people. This is either for exchanging to or from other cryptocurrencies and also for purchasing goods online using this platform. According to bankrate.com, not every coin is supported by Coinbase as of right now, but there are over 120 coins allowed on the platform.
Borussia Dortmund
Borussia Dortmund is a club that was formed in 1909, and the rest is history. Truly German football royalty, Dortmund has been home to some of the best players in the world, namely Marco Reus, Erling Haaland, and Mats Hummels. They have won 8 league titles, and have been runners-up a total of 10 times with one European trophy to add to it.
Borussia Dortmund is currently home to Jude Bellingham and Marco Reus, and they are known for their outstanding business of buying young prospects and selling them as world-class players. If there is one thing to be certain of, it's that BVB understands the business of capital.
The partnership
The partnership seems to have been a beneficial one thus far. According to the BVB official website, "the general public will be able to perceive the Coinbase brand not only through perimeter advertising and cam carpets in Dortmund's SIGNAL IDUNA PARK but also through digital advertising and activations for and with BVB fans on social media and digital channels." 
Coinbase with its crypto platform and Borussia Dortmund in the sporting arena both stand for innovation, trust, and responsibility.

Daniel Seifert
Coinbase Vice President
BVB and Coinbase will also be offering a promotion to their fans for February and March. This competition will offer VIP tickets to certain BVB home matches as well as a chance to experience Dortmund's home match against Union Berlin in April from a box.
Coinbase Vice President Daniel Seifert went on record and said "We are delighted to deepen our commitment to the German market and look forward to working with BVB. Coinbase with its crypto platform and Borussia Dortmund in the sporting arena both stand for innovation, trust, and responsibility. We are very pleased to have a partner who believes in the crypto economy and is ready to shape the future with us." BVB is said to be working with other innovative companies, so this is just another step in that direction for them.