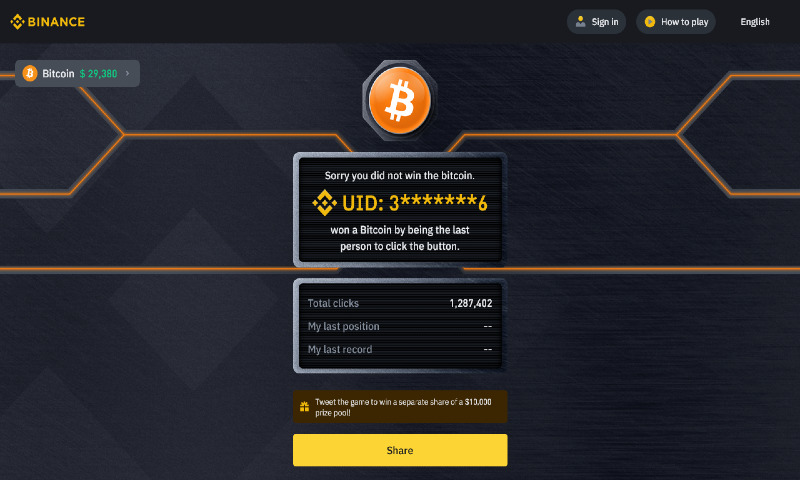 In case you missed it, Binance launched their Bitcoin Button Game. This is the second year that Binance allows their users to play, but unfortunately, you are too late to claim the incredible prize of 1 while Bitcoin.
The premise of the game is super simple. Be the last to push the button. The countdown timer starts are 60 seconds and counts its way down to 0, if you are the last person to push the button, the timer resets to 60 seconds. It is simple in theory but difficult in practice when you consider the hundreds or thousands of people who want to win that 1 BTC prize.
When the game first launched on March 15th, 2022, within 24 hours more than 180,000 people pushed the button. #BitcoinButton was trending on Twitter. And this year was no different. The Binance Bitcoin Button Game took the world by storm, with another 1 BTC up for grabs.
The 2023 Bitcoin Button Game was launched on June 12th, 2023, but with even more prizes. Sure one player could walk away with 1 BTC, but even more players could claim cash prizes and gift cards for simply being a part of the Binance community. But despite all the extra excitement and prizes, this year's game was a lot shorter than its predecessor.
The 2022 Bitcoin Button Game went on for just under three months, whereas the 2023 Bitcoin Button Game lasted for less than 2 months. Considering the same prize was on the line, we can only assume that the bear market made the prize a little less exciting. But nonetheless, one lucky player gets to walk away with the incredible 1 BTC prize. So to UID: 3*******6, congratulations on your win. We hope a bull market comes and triples your hard-earned winnings.
Binance is known for its big giveaways, such as its Free Crypto Boxes, but the Bitcoin Button Game is special. The chaos, the competitive nature, and the all-around fun. We look forward to the Binance Bitcoin Button Game 2024, see you there.