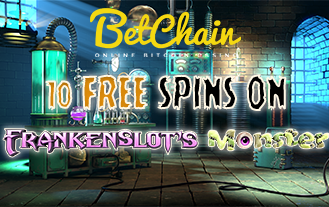 It is that time of year again. From pumpkin spice to haunted houses, everyone is indulging in their own Halloween treats. BetChain has some of its own treats headed your way, with a Halloween bonus that will spook bad luck away! So let us send our brooms out, cast a spell and push science to its limits in order to create the best treat out there and make it come to you. No need to go out trick or treating, just sit relax and enjoy our featured Halloween game, Frankenslots Monster, with 10 Free Spins and a 10% cash back Franken-bonus.
That is right, this time around we have taken the spirit of Halloween one step further. We have created a monster bonus in our secret BetChain labs. The only thing you have to do in order to get a piece of our very own creation, is deposit 0.01 BTC or €/$10, and you will get all the Franken-fun out there. With 10 Free Spins and a 10% cash back bonus, this creature is a wonderful Halloween treat monster that will stomp on that Frankenslots Monster until you hit the jackpot!
The only thing you need to do to enjoy the awesomeness of our bonus creature, is to contact support once you have made your deposit. If you make your deposit on October 31st 2016, the Franken-bonus will be on its way to you, crushing the slot machine and spooking bad luck away so you can hit the biggest jackpot treats of all! So what are you waiting for? Make your play and take advantage of the Franken-bonus madness that only our crazy BetChain sciencetists can engineer, and have a bountiful Halloween treat you will remember vividly, until we come up with even a more monstrous creation next year!