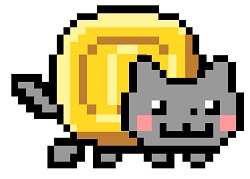 Amongst the hundreds of cryptocurrencies that have appeared since Bitcoin became popular and the almost daily spawning of new coins there are some really strange ones. These are some of the craziest coins I've seen.

NyanCoin NYAN
In the world of crypto strange it doesn't get much stranger than NyanCoin. This coin came out in January of 2014 and actually received a reasonable response from miners in the beginning (yours truly included). The creators billed the coins as "the first officially licensed cryptocurrency" and in case you're wondering it's based on that youtube viral sensation NyanCat uploaded in 2011 with well over 100 million views.

Coinye West
Because Kanye West doesn't get enough media attention a group of developers decided to create a cryptocoin based on the rap singer. The coin was scheduled for release at the beginning of 2014 but days before the launch a cease-and-desist letter was filed by Kanye's legal team. The coin was subsequently dumped by the development team and logo updated to the current fish version (a reference to a south park episode featuring West). Needless to say, this coin hasn't exactly reached mainstream appeal.

42Coin
The logo for 42Coin is pretty bland but it's the idea behind that earned it a place in this list. The creators opted for a cryptocurrency with only 42 coins to be released as opposed to the average of hundreds of millions that we see with other coins. Block time is 42 seconds and block reward is 0.000042. The idea was to create "exclusivity" by the limited number and drive the price up. The creators even published a press release in March when 42 was worth 100 times Bitcoin. right now trading is around 7 times the value of Bitcoin.

RonPaulCoin RPC
Created in 2013 Ron Paul Coin's creator says that the coin is a tribute to Ron Paul who has fought for greater freedoms and better financial management for most of his career. Ron Paul, former congressman and presidential candidate, has no official ties to the coin and has not endorsed the coin in anyway. But he does state that he is an advocate for any form of currency that provides an alternative to the current federal system of printing money. The coin has captured wider appeal and gained a loyal following since inception.

Potatocoin Spuds
This is a new coin that I'm not really familiar with. Reading the creator manifesto, it's clear that this is an ideological coin. The creators are aiming to improve conditions for African farmers and reduce their dependency on fiat currencies by distributing this coin to them as a viable alternative. With 85% of an initial 50% premine (btw that's huge) going to an African Trust and the farmers themselves, these guys are nothing if not ambitious. Potato was chosen presumably because of it's place as staple food source in poor countries. After reading the Latin inscription on the coin I had to include it in this list, which translates as "Potato is light, potato is life, potato is love".

RouletteCoin
This coin isn't actually that strange. It also doesn't seem to represent any new idea or technical innovation. I'm actually surprised with the amount that Bitcoin and cryptocurrencies have been used for online casinos that there aren't more coins like this around. Either way the development team is a renowned team and the logo is pretty cool.

Wankcoin WKC
No list of strange alternative cryptocoins would be complete without at least one sex coin, so allow me to present Wankcoin. I think the name mostly speaks for itself but according to the creators the coin is a way for adult consumers to buy and trade NSFW material completely anonymously. There are other coins with the same purpose but the name alone earned this coin a place in the list.

Unobtanium UNO
I just love this coin concept and logo. According to the creators the coin is based on "conceptual Unobtanium, which is a fictional engineering and scientific thought experiment to describe an extremely rare, impossible or costly material". Community members refer to the coins in kilograms and as you can imagine the coin has a small but extremely loyal following.
If you've seen any strange coins or just want to comment, please leave your thoughts below. I'd love to hear what you think. For more news and views on Bitcoin and other cryptocurrencies be sure to read my BTC blog or follow us on facebook.