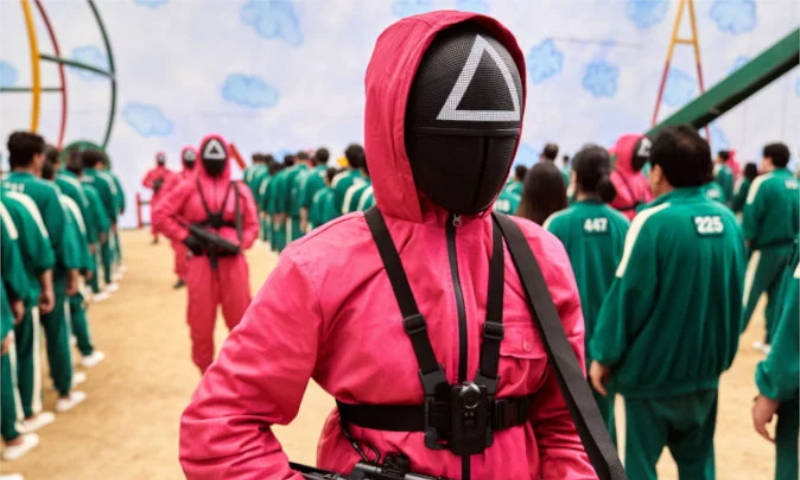 You may have heard of a new Netflix series making headlines, Squid Game took the world by storm and was quickly recognized as the most-watched show after hitting 111 million views in a month. The show is based within Korean culture and features a covert game show run for and by the elite. People who are deeply in debt are sourced and offered an opportunity to make billions, but when they arrive not all is as it seemed. The game features 6 rounds, each round is based on kids' Korean games. The plot twist is if you lose, you die. Contestants must battle it out to the end to claim their winnings, with so many unexpected and jaw-dropping events.
The creator, Hwang Dong-hyuk, spent more than 10 years perfecting the show before it was Netflix-ready. With such a brilliant, and well throughout storyline, on top of all the effort put in, it's clear why squid games captivated the world. Now it's captivating crypto too.
Cryptocurrency Based On Squid Game Series
This Squid Game cryptocurrency was launched by developers with the intent to have it cooperate with a game they were said to release sometime in November. The currency is called SQUID, and pre-sales of SQUID started on October 20, 2021.
Since then it jumped up by roughly 80,000%, and an additional 2,000% in just one day. So where is all this hype coming from? Aside from the series itself, the Squid Game cryptocurrency was going to release a game that works on a play-to-earn system. The games featured were said to be similar to those in the show. Potential players must pay to enter the game and restart if they fail. 10% of the entry costs would've gone towards developers, while the rest would have been distributed into award pools for the winners of the game.
That's what we thought was going to happen at least. There were many complaints from the community about the cryptocurrency itself, with buyers stating they can not sell their tokens. That is merely where the issues started showing, and then CoinMarketCap came to say:
"We have received multiple reports that the website and socials are no longer functional & the users are not able to sell this token in Pancakeswap. Please do your own due diligence and exercise extreme caution. This project, while clearly inspired by the Netflix show of the same name, is not affiliated with the official IP."
Not too long after, we saw the rug pull many expected. An unsurprising plot twist. An estimated $2.1 Million has been lost to this scam. We have seen it before, and we will see it again. Unfortunately with the growing craze around cryptocurrencies and Blockchain, almost anyone can start up a project with a fun idea and run away with the funds. This cryptocurrency dropped from a trading high of $38.27 to $0.0030.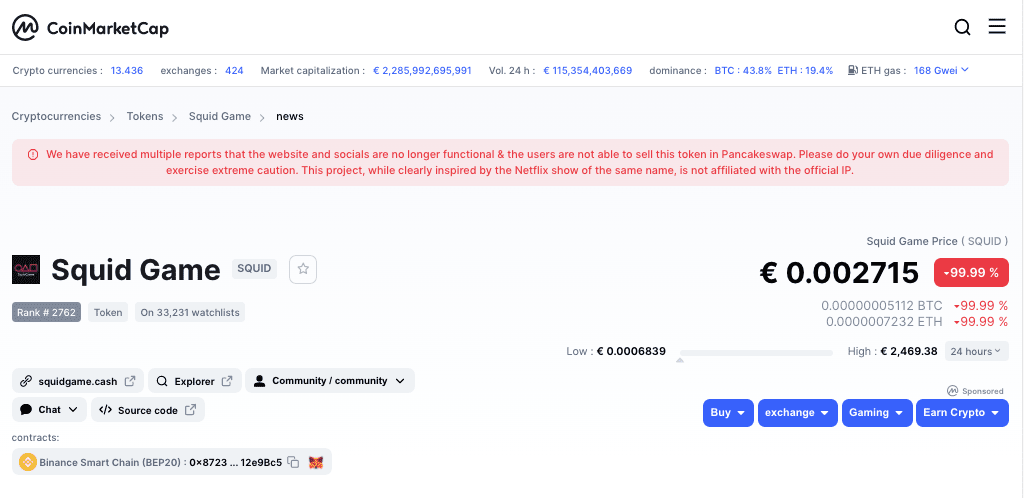 What's Next For The Squid Game Cryptocurrency And It's Hodlers?
Although this cryptocurrency was built on the premise of a brilliant idea, that's all it will ever be. Hodlers are still unable to sell their tokens, and all of the SQUID social media channels have gone silent. It's unfortunate that such a headline story had to take a turn for the worst, as this shines a bad light on cryptocurrency to the mainstream. Luckily, this is not how the story always goes and is rarely an issue many people face, it's just sad that scams get the most media attention. We send out our condolences to all who bought this token in hopes of gains or a game to come. It is always important to do your own research and not just follow the media. A whitepaper, website, and an explainer video are not what make a great cryptocurrency.
With hodlers still unable to sell, and no communication from the Squid Game cryptocurrency project, it's clear this battle is over. There is not much that can be done right now, maybe in the near future these scammers will be met with consequences but currently, this is a reality unlikely to have a silver lining. If any more details become available on the Squid Game cryptocurrency, or where the money went, we will be sure to inform you. For now, keep your funds safe and only buy into projects you have thoroughly researched to avoid any unnecessary losses.