Where to Buy Bitcoin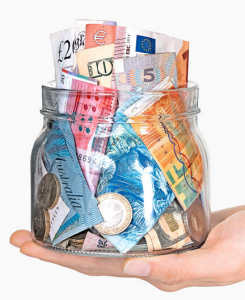 For many newcomers to Bitcoin, knowing how and where to buy Bitcoin can be surprisingly difficult. From the outside, it seems easy. But once you get into it you quickly stumble across regional restrictions and complex verification processes. Suddenly knowing where to buy Bitcoin is not as easy as it sounds.
So we have tried to make the process as easy as possible for you. Listed below are the best places to buy Bitcoin instantly. They all allow you to buy Bitcoin with a credit card, accept transactions from most countries, and have clear instructions on how to buy Bitcoin. So look no more for where to buy Bitcoin – here you will find the best place for you.
Best Places to Buy Bitcoin 
Our Top 5 Sites
---
Coinbase
Founded in 2012, Coinbase is probably the most popular place to buy Bitcoin. This Bitcoin exchange based out of San Francisco also has an exceptional Bitcoin wallet for its customers. The stats speak for themselves: They have served over 10 million customers, support 32 countries and they have traded $50+ billion in Bitcoin exchanges. At Coinbase you can buy Bitcoin with a credit card. All you need to do is sign up, connect your bank account, debit or credit card, and you are ready to go. Coinbase also has apps for Android and iPhone apart from their regular browser platform. In terms of security, the vast majority of the Bitcoin they hold is stored offline.  Coinbase also has insurance for the coins held on their servers.
---
SpectorCoin
SpectorCoin aims to make buying Bitcoin as easy as possible while ensureing solid security. You can buy Bitcoin with USD, EUR, GBP, AUD, and more. SpectorCoin also provides a Bitcoin wallet on signup so you do not have to transfer your new Bitcoin anywhere else. To buy with SpectorCoin you must first open an account, then goto the "Add New Card" section of your account. After adding your card click "Link". SpecorCoin will charge a small fee to your card's statement. This amount is the code – and once you enter it at SpectorCoin your will be verified.
---
CoinMama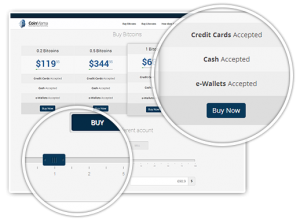 Coinmama is all about the ease of buying Bitcoins. Simply upload a picture of your ID or driver's license along with a selfie containing the ID and a piece of paper bearing the text "Coinmama" and today's date. Once verified you're ready to buy and sell Bitcoins. Once you're all registered, you select the payment method – which includes several major credit cards and cash services such as Western Union, and after confirming all the transactions you will instantly be credited with your new Bitcoins. It's that simple.
---
Changelly
Changelly offers an intuitive user interface, good exchange rates, and secure transactions. Through Changelly you can buy Bitcoin and other cryptocurrencies with a Visa or Mastercard. Their verification process for buy Bitcoin is a little more complex than others. During the payment process you will be asked to provide a telephone number associated with your credit card. You will then recieve a call on this number which will tell you a 4-digit code. Enter this code to Changelly. Changelly will then leave another code on a pending payment on your bank statement. So log into you digital banking account and find the three digit code. Enter this on Changelly, and you are done.
---
Local Bitcoin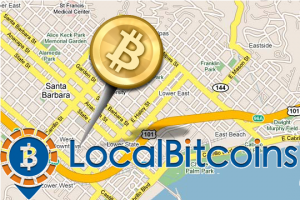 Although more than 90% of their trade happens online, Local Bitcoins offers a solution for those of you looking for an old fashioned brick and mortar buying and selling experience. Local Bitcoins allows you to find people near you who are looking to sell some coins, or buy them from you. You simply log in, input how many Bitcoins you're looking to buy and put in your city and payment method and you're good to go. The site then provides a list of sellers near you that meet your criteria. You can either meet with them in person or complete the transaction in a different manner. The genius of the platform is the fact that it connects the seller and the buyer, in a safe manner with a rating system that allows people to establish their reputation and surpass some of the scary unknowns.
The mechanism to make the exchange safe works as follows: Once the transfer process starts between you and the seller, the Bitcoins in question are put into escrow. After you have completed the transaction from the buyer side, the seller then frees up the Bitcoins in escrow and they will be transferred to your account. It's as simple as that.
---
Honorable Mention 
Bitcoiniacs 
Last but far from the least on our list is Bitcoiniacs, which happens to be the only brick and mortar company that we're presenting. That's right – Bitcoiniacs allows you to purchase Bitcoins in real place, such as Vancouver where they set up their first Bitcoin ATM. The company has also set up an ATM in Singapore and is currently working on three more.
Not only has Bitcoiniacs introduced Bitcoin ATMs into the world, they also opened up The Bitcoin Store, which is the world's first physical Bitcoin exchange. This concept is also opening up soon in Singapore as well as 4 more location around the globe.
Spend Those Coins
Now that you scored some BTC, found the best ways to make use of them. Read our Guide to Spending Bitcoins .