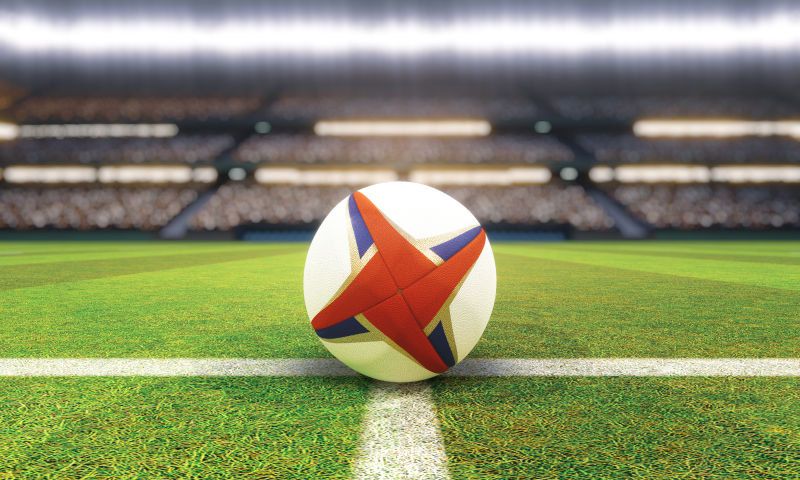 The story of William Webb Ellis has been told from coast to coast. The story is about a young boy who picked up a ball and ran towards the opposition's goal line in the year 1823 in England, and that's how rugby came to be. And over two centuries later it has become a sport widely recognized for its intensity, sportsmanship, and historic moments.
Rugby is one of the biggest sports in the world, as far as a Mount Rushmore of world sports goes, rugby should always have a place to reside. The thrill is sold with a bittersweet loss or a painful victory, either way, it goes the fans have learned to involve themselves by placing their money where their mouths are. In this case, it's putting your cryptocurrency where your mouth is. Here we have compiled a list of the best possible sites to bet on Rugby with crypto.
Stake.com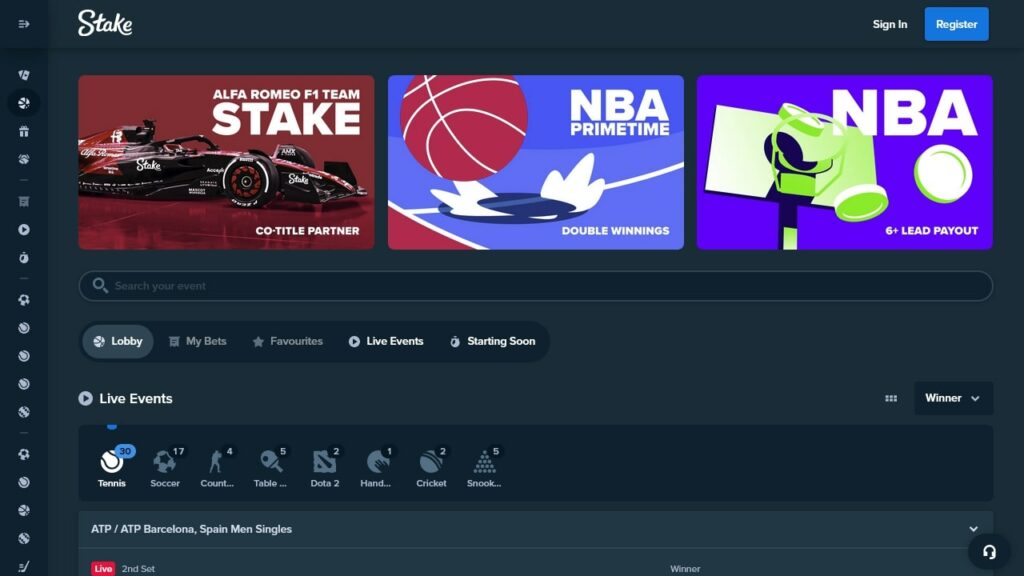 Stake.com is steadily becoming one of the best sports betting sites in the world and easily ranks as the best crypto sports betting site. Under their sportsbook, Stake offers over 40 different sports and esports to bet on, including Rugby. Stake is well-known for its unique promotions and bonuses, so it is worth visiting Stake before a big Rugby match to see if they have a promotion running to take advantage of.
Visit Stake
TrustDice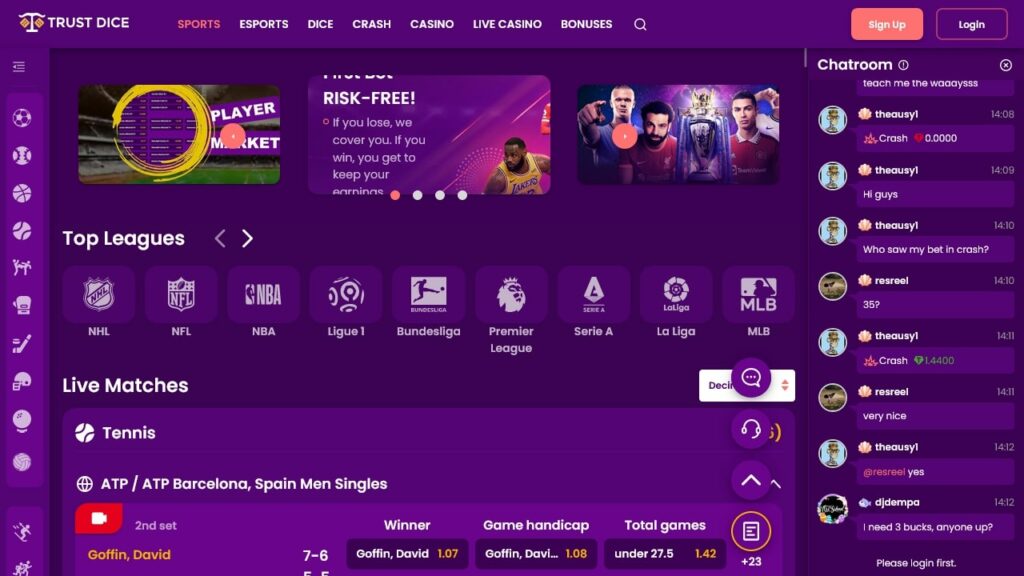 TrustDice is a sports betting platform that utilizes blockchain technology to offer gamblers free and instant withdrawals and a faucet to claim free crypto. At TrustDice you can deposit and withdraw using Ethereum and Bitcoin among other cryptocurrencies and a number of traditional currencies like EUR. TrustDice is a fully licensed betting platform and comes with a fantastic reputation.
TrustDice offers a 100% first deposit bonus and a number of other bonuses you can take advantage of.
Visit TrustDice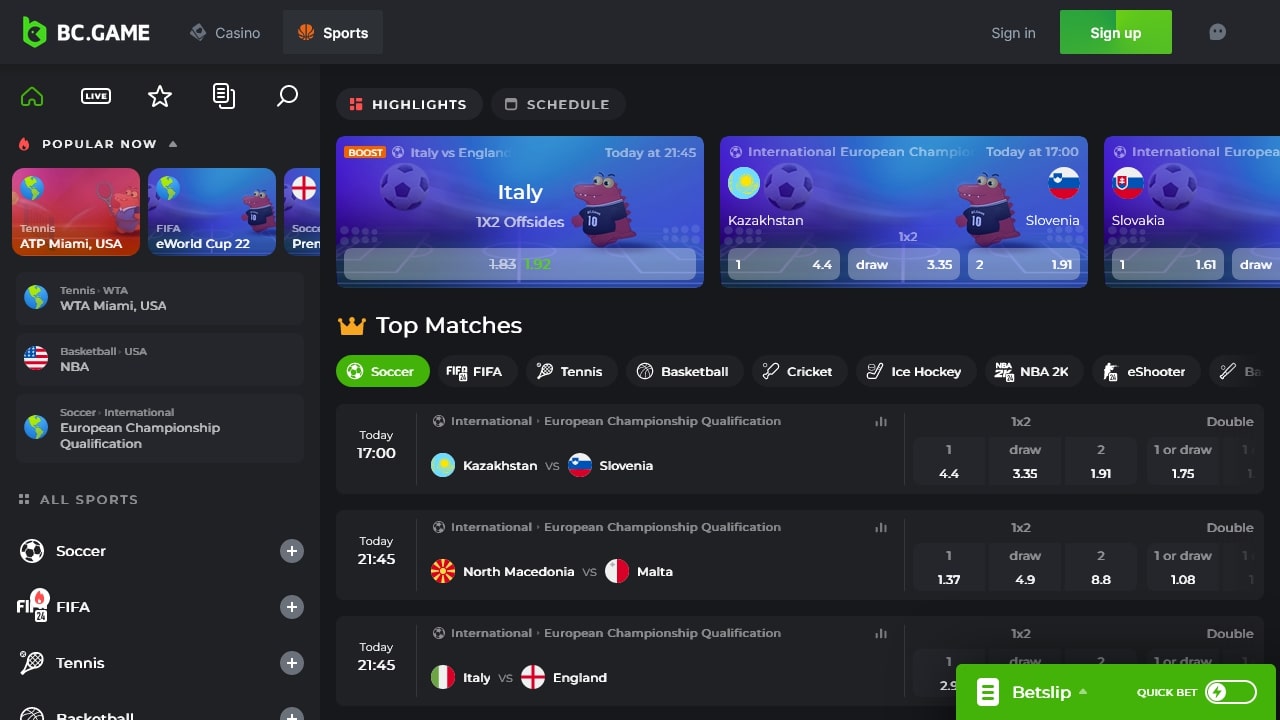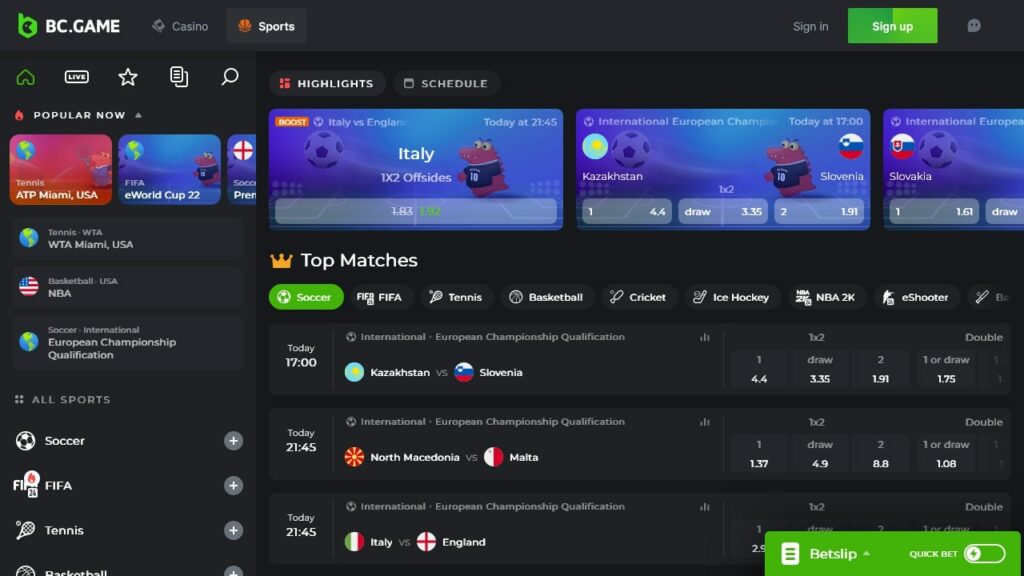 BC.Game
If you are looking to bet on Rugby with anything other than Bitcoin, Litecoin, or Ethereum BC.Game is the place to go. BC.Game accepts over 100 different cryptocurrencies so whatever coin you want to bet on Rugby with you will find it at BC.Game. With backing from some of the biggest names in the business like the Argentina National Football Team, you know you are in good hands as well. You can also find unique blockchain features to boost your Rugby betting with gambling NFTs.
Visit BC.Game
Wagerr.com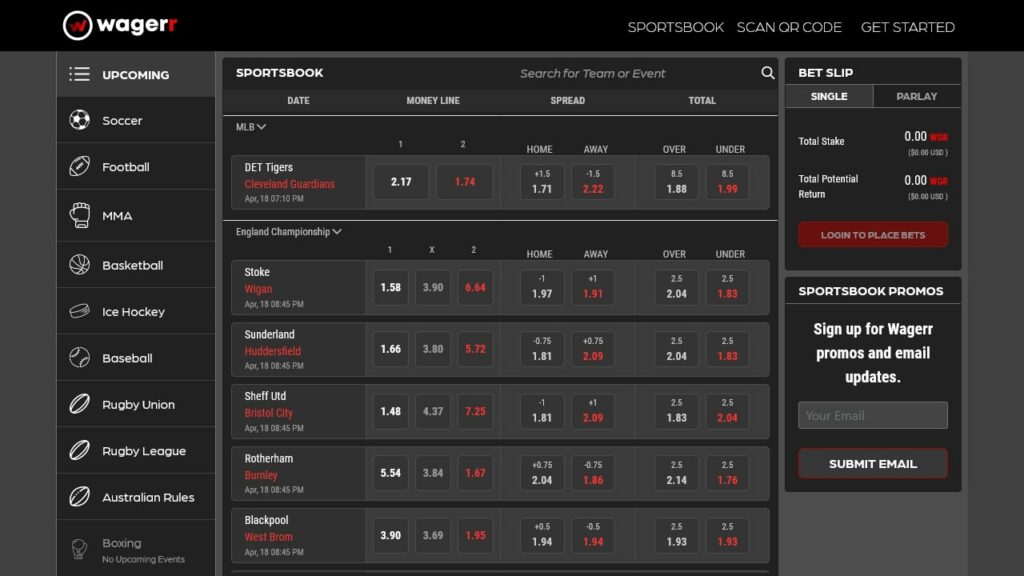 Wagerr.com is a sports betting dApp that allows you to get started in an instant without providing any personal information and is accessible from anywhere in the world. You can bet on Rugby at Wagerr via a desktop browser but also access the dApp from a mobile device. The simplicity of the site makes it perfect for mobile devices. Wagerr stands apart from other crypto Rugby betting sites in that you have to gamble with their native cryptocurrency, WGR. The benefit of this is that all WGR owners can gain a share back from the sportsbooks house edge.
Visit Wagerr
Thunderpick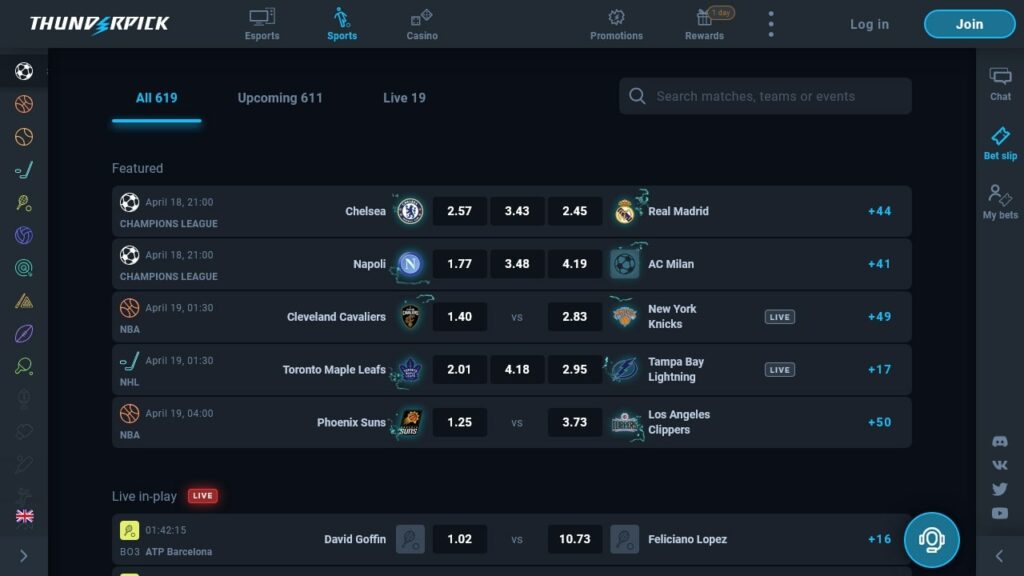 Thunderpick has been running for six years and is a well-known name in the crypto sports betting world. At Thunderpick you can place bets on sports and esports, or gamble in their online casino. It is a licensed betting site that offers rugby game-to-game and live betting odds. One feature we like at Thunderpick is their VIP program which allows for higher betting limits, and grants priority withdrawals and unique rewards.
Visit Thunderpick
DuckDice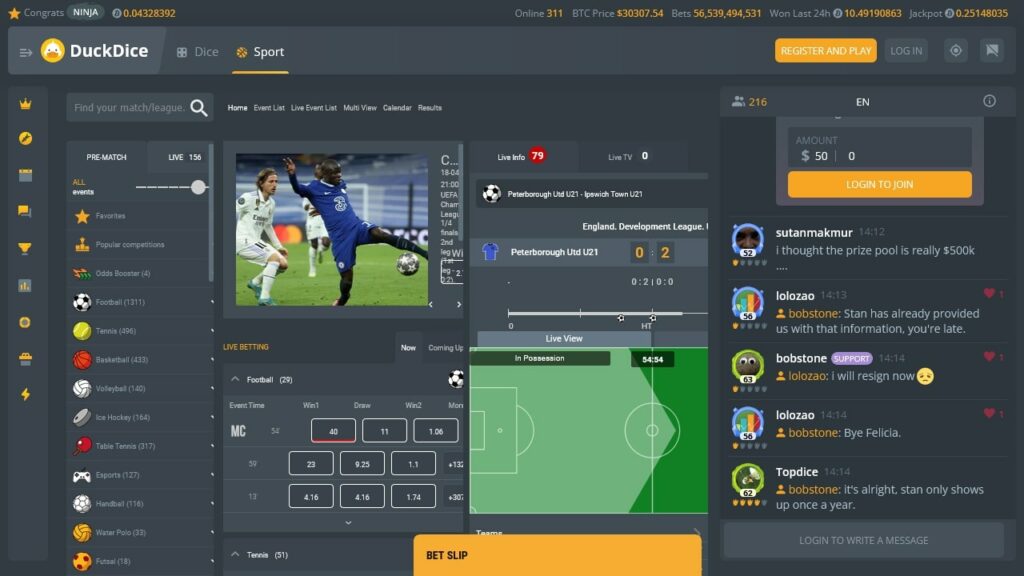 DuckDice made its debut in 2016. In the beginning, it featured just one casino game, which you can guess was dice. It has since grown to become a fully-fledged crypto gambling site offering bets on major sporting events, including the major Rugby leagues and tournaments. At DuckDice you can choose from several different cryptocurrencies, with Bitcoin being at the forefront.
Visit DuckDice
FortuneJack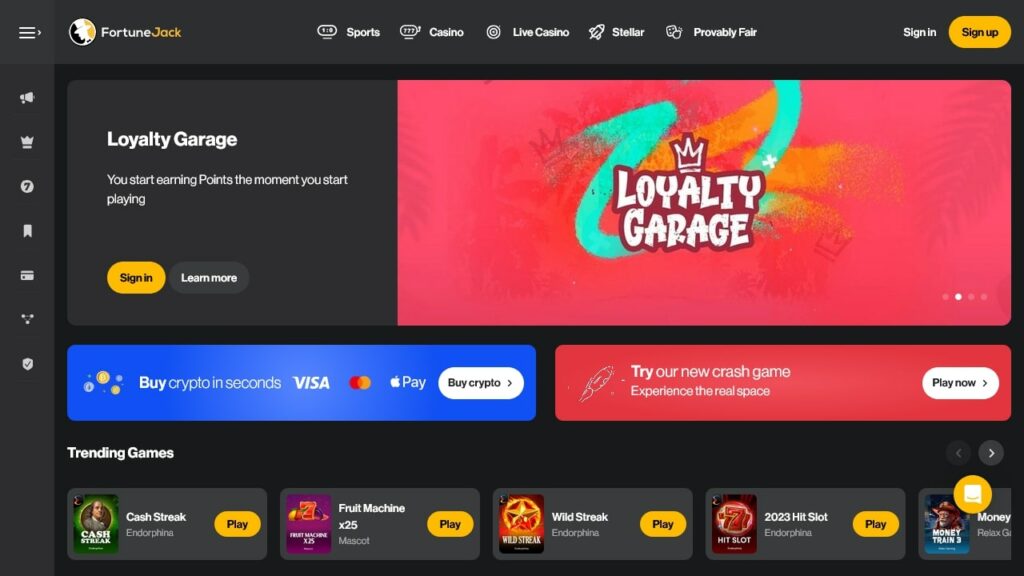 FortuneJack is a gambling platform licensed under the Curacao Authorities. It allows betting with Bitcoin and several other cryptocurrencies. It is well known for its online casino but also features a strong sportsbook and a number of sports-focused bonuses and promotions. FortuneJack is probably the place to go if you are looking for a well-established and secure brand to bet on Rugby. You will find state-of-the-art security features and a fantastic customer support team on hand if you have any problems.
Visit FortuneJack
Types of bets you can place at Rugby crypto betting sites
Rugby has several different types of bets on most crypto betting sites, these vary from:
Live bets: Live bets allow you to bet on live games as they take place. This could give some gamblers more comfort as they can place bets after seeing how the teams are performing
Outright bets: Outright bets are based on the end of tournaments or leagues, as to who will win a certain rugby tournament at the end of it all. These stakes usually give you the chance of bigger possible winnings but the chances of a team going all the way are low too.
Pre-match bets: Pre-match bets are placed before games even start and often come with promotions or bonuses. This is the most common way of betting.
Rugby betting tips
Before you place your first bet on Rugby, take these tips into account. They can help you make the right call when the games are closely matched.
History: Knowing the history of the two teams that are playing against each other is always helpful as it shows you how they have fared in certain hostile or home games against a certain team.
Injuries: Rugby is a very physical sport, so injuries are bound to happen, that is why knowing who will be playing and who won't be a big factor, because knowing is always very helpful as it can change the whole dynamic of a game.
Form: The form that both teams are currently on could help you see which side has more momentum coming into the game.
Popular cryptocurrencies for rugby betting
Crypto sports betting is when you place bets using crypto coins instead of traditional currencies. In recent times, a lot of crypto-betting sites have been created. These allow you to bet using a variety of currencies including Bitcoin, Ethereum, Dogecoin, and many more.
Bitcoin (BTC): Bitcoin is the largest and most well-known cryptocurrency in the world. It is widely used by online sportsbooks and a popular option among sports bettors.
Ethereum (ETH): By market capitalization, Ethereum is the second-largest cryptocurrency and is widely used for a variety of applications, including sports betting. It has faster transaction times than Bitcoin and is frequently preferred by users who value speed.
Litecoin (LTC): Litecoin is a peer-to-peer cryptocurrency founded in 2011. It is popular among sports bettors due to its quick transaction times and low fees.
Bitcoin Cash (BCH): Bitcoin Cash is a Bitcoin fork that was created in 2017. Its faster transaction times and lower fees make it a popular choice for sports bettors who value speed and affordability.
Some sites only allow one or two cryptocurrencies on their sites, whereas others will allow up to one hundred of them.
How to choose a Rugby crypto betting site
License
Knowing the license that the betting site has is very important, if it isn't licensed that could be an early red flag to maybe go with an alternative site.
Betting Odds
Odds differ between gambling sites, so knowing the difference between certain odds could help you come out with a bigger win potentially. It's always good to check the odds offered on Rugby by different betting sites.
Promotions and Bonuses
Certain sites offer promotions and bonuses whereas others don't. It is always good to look into such stuff and know which could give you the most and the best benefits out of a bet.
How to bet on Rugby with crypto
One of the big advantages of cryptocurrency gambling is that it makes depositing, betting, and withdrawing at online gambling sites a quick and easy process. Here are the main steps to get started at a Rugby crypto betting site.
Choose a sportsbook: Decide on a sportsbook that not only offers Rugby betting with crypto but also offers everything else you are looking for, whether that is security, mobile betting, or bonuses.
Create an account: Creating an account at a crypto betting site is easy and generally only required an email address to get started.
Deposit cryptocurrency: Send cryptocurrency from your wallet to the sportsbook. Keep in mind that the minimum deposit amount will be different for different cryptocurrency and gambling sites.
Place bets: Explore the betting markets, get to know how to use the site, and place a bet when you are ready.
Withdraw your winnings: If your bets were successful you can withdraw back to your cryptocurrency wallet. The minimum withdrawal amount will change from site to site.
The key tool you need to start betting on Rugby with crypto is a cryptocurrency wallet. If you do not have one yet we recommend exploring our top picks for the best wallets for gambling.
important
Many crypto betting sites offer good deposit bonuses, but keep in mind that this can affect when you can withdraw. Many deposit bonuses at casinos and betting sites come with wagering requirements. This means you have to wager a certain amount before you are eligible to withdraw.
Rugby tournaments and competitions
Rugby World Cup
This is the biggest tournament in rugby, held every four years and contested by the top national teams from around the world.
Six Nations Championship
This annual tournament features the national teams of England, France, Ireland, Italy, Scotland, and Wales, and is one of the most prestigious rugby competitions in the world.
Rugby Championship
Formerly known as the Tri-Nations, this annual competition features the national teams of Australia, New Zealand, and South Africa.
European Rugby Champions Cup
This annual tournament features the top rugby clubs across Europe, including teams from England, France, Ireland, Italy, Scotland, and Wales.
Super Rugby
This is an annual competition featuring professional club teams from Australia, New Zealand, and South Africa, with some additional teams from Argentina and Japan.
British and Irish Lions Tour
This is a biennial tour by the British and Irish Lions rugby union team, which is made up of players from England, Ireland, Scotland, and Wales. The team tours a southern hemisphere country, typically either South Africa, Australia or New Zealand, to play a series of matches against the national team.
FAQs
Are there any advantages to using crypto over traditional currency when placing rugby bets?
Betting on Rugby with cryptocurrency offers increased security, anonymity, and transaction speed over traditional or fiat currency. You can also deposit smaller amounts with cryptocurrency.
Which cryptocurrencies are accepted by rugby crypto betting sites?
Crypto Rugby betting sites accept a broad range of cryptocurrencies. Almost every site will accept Bitcoin, Litecoin, and Ethereum. Some, like BC.Game, accepts up to one hundred different cryptocurrencies.
How can I convert fiat currency into cryptocurrency to place bets on rugby crypto betting sites?
To begin betting on Rugby at a crypto sportsbook you will need crypto. You buy cryptocurrency at online cryptocurrency exchanges such as Coinbase or Binance.
Can I place live bets on rugby games using crypto on betting sites?
Live bets on Rugby are available at most crypto sportsbooks, as well as a wide range of other betting markets.