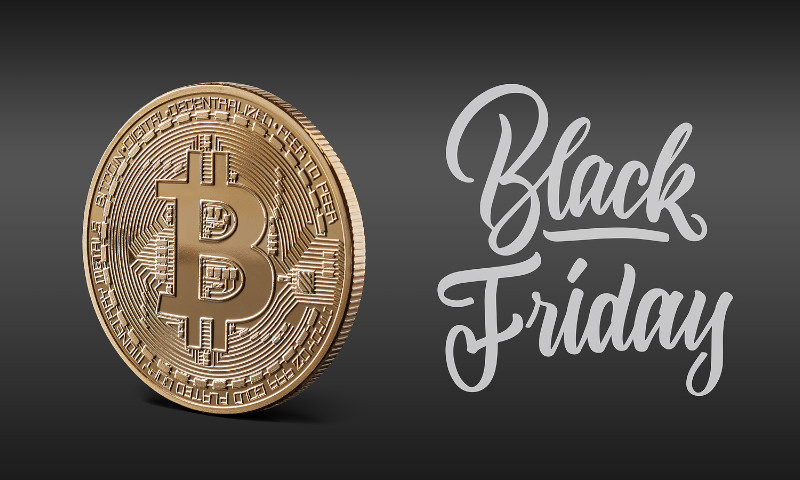 Black Friday has come around again, shortly to be followed by Cyber Monday, and we know what that means. Get ready for your favorite products at discounted prices.
Black Friday will be taking place on the 25th of November 2022, the day after Thanksgiving. And what better way to extend that thankfulness than great crypto deals and discounts? And if Black Friday wasn't good enough, Cyber Monday doubles down and keeps giving. Cyber Monday will be taking place on the 28th of November 2022. Aside from the crypto savings you can enjoy this time of year, there is an influx of cryptocurrency-accepting companies who are running incredible Black Friday and Cyber Monday deals.
These are the best cryptocurrency Black Friday deals and Cyber Monday deals in 2022. Take a look, save some money, and pay in crypto.
Online Retailers:
Microsoft 

Microsoft has been accepting Bitcoin since 2014. Right now they are running a promotion that allows you to save more than 50% on hundreds of windows and Xbox games. You can also score some exciting deals on software and apps. 
Newegg

Newegg is a leading American e-commerce store specializing in computer components, gaming systems, electronics, and more. You could save more than 70% on selected products and pay in Litecoin, Dogecoin, Ethereum, Bitcoin, Shibu Inu, and more. 
Gate.io

Gate.io is a leading crypto exchange with support for more than +1,400 cryptocurrencies. This year they have partnered with Uquid Physical Shop, featuring more than 85 million products, where you can claim up to 55% off. The sale will run until the 28th of November 2022. 
CryptoCloaks

Looking for Bitcoin goodies, mining equipment, computer cases, or hard wallet mounts? CryptoCloaks has all that and more, and they are celebrating Black Friday with a 15% off code. Use code: blackfriday to claim your 15% off. 
Wallets 
Keevo

Be your own bank with a Keevo wallet as they allow you to save $100 on their hardware wallets. But don't worry, there is plenty of time to enjoy their Black Friday special, as the promotion will be running until Cyber Monday, the 28th of November 2022. 
Ledger

Ledger is well-known for its Black Friday specials, bringing you great value every year. For Black Friday 2022, Ledger will be giving their customers a unique offer to claim $30 in Bitcoin when they buy a Ledger Nano X. 
Trezor

Another leading hardware wallet, Trezor is bringing you some massive savings this Black Friday. To celebrate this day of savings, you can enjoy up to 30% discounts on all products across the Trezor online store. 
VPNs:
NordVPN

One of the biggest VPNs is partaking in Black Friday 2022, and the best news is, they accept cryptocurrency. Paying in Bitcoin, you can enjoy massive deals on subscriptions, with users who get a yearly subscription being awarded an additional 3 months of services. 
ExpressVPN

Another big name in the VPN game, ExpressVPN is hopping on the Black Friday train to bring you big savings on your privacy. Save 49% on a yearly software subscription, and enjoy an additional 3 months of services for free. 
Trading:
TradingView

A super investor network of charts, chats, and market analysis, TradingView is making a stand this Black Friday with 60% off their services, as well as an additional 1 free month. Enjoy an extensive array of indicators and analysis tools at a discount. 
BitStamp

The global cryptocurrency exchange BitStamp is bringing more Black Friday excitement with $15 bonus codes in trading fees to all new users. Anyone registering from Black Friday to December 1st can enjoy $15 off trading fees when entering the promo code: ADQOGF2BE4.
Gift Cards 
Want to enjoy black Friday at a place that doesn't accept cryptocurrency? No problem, there are a variety of gift card providers that allow you to pay in cryptocurrency. Spend your crypto on gift cards, and enjoy the savings of other retailers.
Gyft

Gyft is an internationally recognized gift card seller, and they accept Bitcoin as a payment method. So pay for your gift cards in crypto and spend them at one of the supported 200 retailers this Black Friday 2022.
Coinsbee

Coinsbee is another big gift card seller, but they are a little more crypto-focused. Coinsbee allows you to use more than 50 different cryptocurrencies to purchase gift cards, and lets you spend your crypto at retailers like Amazon, eBay, PlayStation, and more. 
Big Bitcoin Black Friday Deals 
Black Friday just got a whole lot faster, cheaper, and more secure thanks to cryptocurrency payments. Take your Black Friday up a level.
These are the 13 best crypto Black Friday deals of 2022, with a little bit of Cyber Monday thrown in. Use these savings to secure your Christmas gifts, buy gift cards for friends or family, and spoil yourself at a discount. Don't break your crypto bank, be smart and save this Black Friday. Finally crypto is joining the mainstream craze, and we are so thrilled to see such big names allowing us to spend and save in crypto. Take advantage of these crypto Black Friday deals.
If you are also a crypto casino lover, then be sure to check out our list of the Best Black Friday Casino Bonuses.