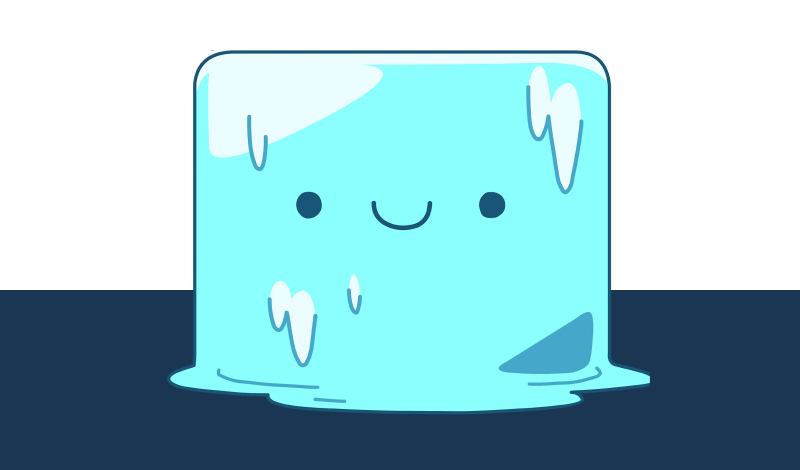 The art world has seen significant growth from the introduction of non-fungible tokens, powered through blockchain technology, but some artists have been bringing utility to their fans long before this digital craze.
Ven Wong and his CubeMelt character are a great example of this initiative. CubeMelt features a little ice cube on daily adventures as he faces the risk of melting. Along with his love interest, a lightbulb, who is too hot for him to handle, CubeMelt proves no adversity is too great with a good attitude.
CubeMelt didn't just stop at art, he expanded his reach into merchandising, a game, and an animated series. The game was especially exciting as CubeMelt took community input to create character features and outfits to fit the little ice cube.
But again, CubeMelt continues to embrace innovation as he now takes on the NFT space. As one of the coolest trademarked NFT collections out there, we decided to sit down with the CubeMelt team and learn more about their project and what they are bringing to the Meltiverse. This is everything you need to know about the CubeMelt NFTs and how to get involved.
When did you first hear about crypto and get involved?
I've known crypto since 2017 thanks to NFT projects such as CryptoPunks and CryptoKitties. I didn't understand its potential back then, until the 2021 craze had me and my team trying to make sense of the world of NFTs. I believe the utility potential of NFTs will transform how people eventually consume, own and interact with art and digital assets in the future.
How would you explain Blockchain technology to a beginner?
Imagine there are 10 people keeping record of every transaction taking place and they talk to each other to achieve consensus that all records are true and accurate. To make an edit to the record, there must be more than 50% consensus reached. This provides transparency, security, and protection to the users.
What have you used your cryptocurrency to buy in these last few years?
Initially, I purchased crypto purely as a long-term investment. Now, I invest a portion of my portfolio in NFT collections that I like and see potential in.
How do you think Blockchain betters your project and industry?
Blockchain makes it possible to tokenise our community of supporters, and offer them shared ownership of a brand through the NFT they own. This makes it possible for fans to become vested collaborators of a project instead of being only a consumer. Artists and creators who understand and harness this extremely powerful shift in their relationship to stakeholders will be the driver of future successful brands.
What are some "cool facts" you can tell us about your NFT project?
CubeMelt is the world's coolest ice cube with more than 300k fans on social media! It's a trademarked character brand that began as a webcomic, and has expanded into an animated series. Season 2 will be launched in 2023.
The CubeMelts holders will get to own a piece of the CubeMelt brand. How it works is that each holder automatically collects ERC-20 tokens weekly, and these can be exchanged for "frozen assets" such as discounted merchandise, digital/physical collectibles, unique CubeMelt comic panels, and priority access to CubeMelt at ComicCon!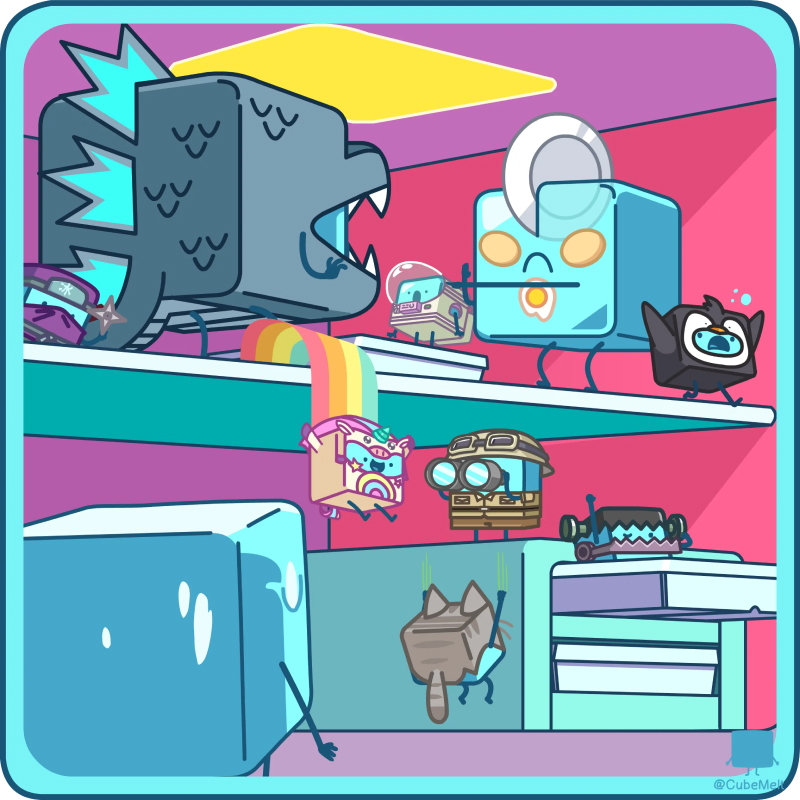 What date and Blockchain will your NFTs be minted on?
The CubeMelts is an Ethereum Blockchain project with a 8,888-piece NFT collection. Our mint date is on September 29, 2022 1 p.m. UTC.
What benefits do users get for joining the "Early Bird Allowlist"?
Those who secure an Early Bird Allowlist spot will be able to mint at the early bird price of 0.05ETH while the public mint price is 0.08ETH.
In addition, early bird minters get the first dibs to receive a Poposicle NFT valued at 0.3 ETH for those who mint 3 NFTs at a time. There's a limited supply of Poposicle NFT, so fastest hands first!
How does your NFT raffle work and what can be won?
There will be physical and digital assets to be collected by NFT holders using the ERC-20 token they will be getting by holding the NFT. These assets will be available for redemption or raffle.
Will your NFTs have any utility? Maybe within your animated series or game?
The CubeMelts NFT is the access to join the community in discovering the Meltiverse both in the digital and IRL experiences. For a start, we are already collaborating with other projects where holders can use CubeMelt as the avatar to free to play and play to earn games.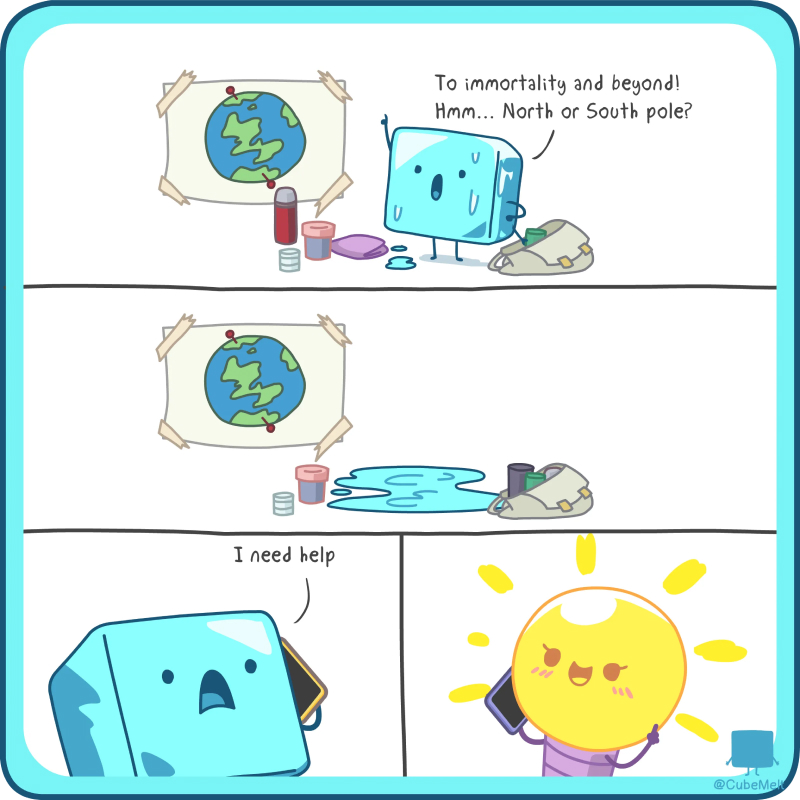 Will each NFT be completely unique? (or use a randomized list of character traits?)
While each NFT will be uniquely generated from a library of character traits, there will also be 20 special NFTs, casually referred to as 'the legends', that look nothing like the others and are specially designed by Ven Wong, The CubeMelts creator.
Are the free Popsicle NFTs included in the 8,888 total NFT collection supply?
The free Popsicle NFTs is a separate ERC-721 smart contract, so it is beside The CubeMelts 8,888 total NFT collection supply.
Will the Popsicle NFTs provide utility to holders? And if yes, can you tell us more?
Oh, definitely! These free Popsicle NFTs have a significant tokenomic enhancing utility to The CubeMelts NFT. Details will be revealed at a later stage. As of now, we highly recommend getting these free Popsicle NFTs.
What is the most exciting fact or feature about your NFT project and collection?
The CubeMelts is a spin-off endeavour based on its protagonist, CubeMelt. Apart from being the coolest trademarked ice cube character brand in the world, CubeMelt also has existing IP and content production ideas currently in the pipeline. Our vision is to build CubeMelt into an international lifestyle brand, so we would love to have CubeMelt lovers and the NFT community join us in this journey, and be rewarded as we build the roadmap.
Where can our readers learn more about you?
Visit our website CubeMelt.io for more information. We're also on Twitter @CubeMelt and Discord