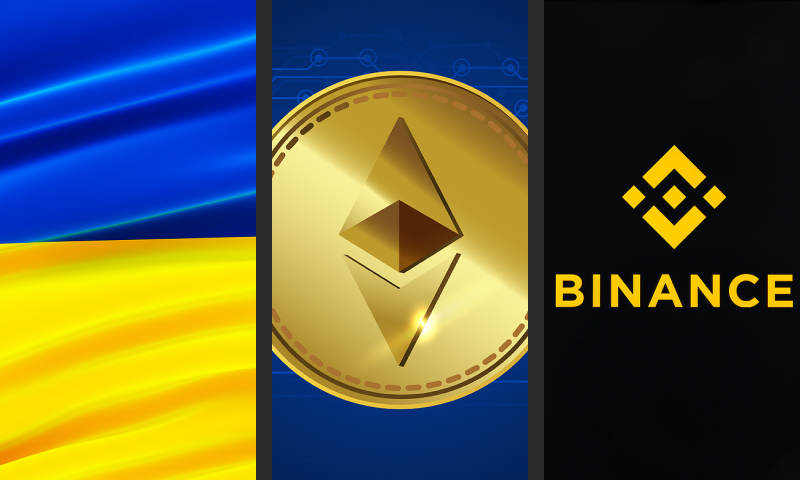 This week's crypto news includes wider availability of cryptocurrency services in Europe, more governmental regulations in Asia and a major update to the Ethereum blockchain consensus protocol.
Ukrainian Supermarkets Go Crypto
On September 16, it was revealed that a leading supermarket chain, Varus, which has over 100 chains across Ukraine would be partnering with Binance Pay to offer its customers the option to purchase goods with cryptocurrency.
To start with, this option will be available in nine major cities, namely Kyiv, Brovary, Kamianske, Zaporizhzhia, Dnipro, Nikopol, Vyshhorod, Pavlograd, and Kryvyi Rih. The chain is not the first to offer crypto payment options, as Whitepay, an electronics store, began offering the option in August this year.
Read more on Bitcoin.com
China's Confusing New Crypto Policies
On September 15, Chinese legislatures revealed that despite there being a ban on digital asset trading services and cryptocurrency trading platforms, citizens themselves are still permitted to own trade cryptocurrency.
This ruling came through a case where a Zhai Wenjie brought his friend to court after issuing a loan to said friend of 50,000 Litecoin (LYC) on condition that the friend would repay him at an interest rate of 1,000 LTC per month, which the friend failed to do.
The court then ruled that, "According to real administrative regulations and cases, our country only denies the monetary attributes of virtual currency and prohibits its circulation as currency, but the virtual currency itself is a virtual property protected by the law." 
The judge ruled that since the digital asset was not considered illegal, the plaintiff was entitled to his claim.
Read more on Kitco
Ethereum Merge Goes Live
On September 14, the Mainnet merge went live as planned. This merge upgraded the chain to a completely proof-of-stake (POS) protocol from a previous hybrid system.
Since the upgrade was so complex, it required Ethereum blockchain nodes to upgrade both the consensus layer and execution layer of their clients. This means that there will no longer be a need for mining nodes, which has lead to a steep drop in GPU prices, as second hand GPUs flooded the market, and general demand decreased.
It seems that around 90% of nodes had updated their clients within the first day of release. There are a significant number of miners who plan on forking the upgraded Ethereum blockchain to revert back to a proof-of-work (POW) system. However, the profit of doing so is questionable, given the relative lack of interest in earlier forked chains such as Ethereum Classic.
Read more on U°Today
Thailand's SEC Bans Crypto Staking and Lending Services by Firms
On September 15, Thailand's Securities and Exchange Commission (SEC) announced that they would be banning crypto currency exchange platforms and other companies from offering staking and lending services.
This move came in response to various cryptocurrency exchange platforms freezing users accounts in response to market volatility or bankruptcy, thereby making it impossible for the users to withdraw their funds. The SEC's intention is to protect consumers from further losses caused by such practices.
Read more on CoinDesk
Italian Investors Sue Binance for Damages Caused by Platform Outages
On September 13, it was announced that Italian and some international HODLers who finally have their day in court against the popular cryptocurrency exchange Binance on September 15, 2022.
The investors filed the initial lawsuit against the platform and the platform's CEO, Changpeng Zhao, in November 2021. They did so after the platform locked out users numerous times due to high trading volumes prevented them from conducting trades, which the argue resulted in them losing potentially tens of millions in USD in crypto as result.
Read more on CoinDesk
Norwegian Central Bank to Mint National Digital Currency on Ethereum
On September 12, CoinTelegraph shared that Norges Bank, Norway's Central Bank, released the source code for its planned digital currency on GitHub. The currency is to be built on the Ethereum blockchain.
The original announcement was made on September 9 on Norges Bank's official Twitter account. The current code is not open-source and so is only accessible to those with clearance.
The official launch date is yet to be announced, as they are still in the testing phase. Furthermore, they still need to see what will happens following the Ethereum merge.
Read more on CoinTelegraph
Ex-Coinbase Manager's Brother Pleads Guilty to Insider Trading
On September 12, Nikhil Wahi, pleaded guilty to charges of insider trading on the Coinbase platform before U.S. District Judge Loretta Preska via a digital court hearing.
The brothers, as well as another accomplice were arrested in July on suspicion of engaging of insider trading that generated them a profit of over $1.5 million USD by acquiring and trading cryptocurrencies at least 14 times before official Coinbase announcements were made between June 2021 and April 2022.
Allegedly, Wahi's brother, Ishan Wahi, would pass on information to him and their friend, Sameer Ramani, and they would then trade the cryptocurrencies through their Ethereum wallets prior to the announcement. Ishan Wahi has pleaded not guilty. Their sentences are yet to be decided.
Read more on Reuters